DUBAI (Reuters) – Saudi Arabia's Crown Prince Sultan has died, the royal court said yesterday, and Interior Minister and reputed conservative Prince Nayef was expected to become the new heir to the throne in the world's biggest oil exporter.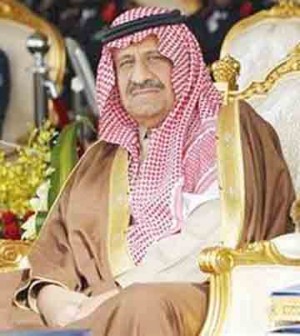 Sultan, whose age was officially given as 80 and who died in New York of colon cancer early yesterday Saudi time, had been a central figure in Saudi decision-making since becoming defence minister in 1962 and was made crown prince in 2005. Saudi analysts predicted an orderly transition at a time when much of the Middle East is in turmoil after mass uprisings against autocratic leaders by citizens demanding democracy.
Saudi King Abdullah reacted to the "Arab Spring" by ordering spending of $130 billion on social benefits, housing and jobs, but he and his new crown prince face challenges from al Qaeda militants, a restless Shi'ite minority and civil conflict in neighbouring Yemen.
Saudi Arabia is also locked in a confrontation with Shi'ite Muslim power Iran, accused by the United States of plotting to kill the kingdom's ambassador to Washington. Earlier this month, the Saudi Interior Ministry accused an unnamed foreign power, widely assumed to mean Iran, of instigating protests by the Saudi Shi'ite minority in which 14 people, including 11 security officers, were injured.
Sultan's health had declined in recent years and he spent long periods outside the kingdom for medical treatment. A 2009 US diplomatic cable released by WikiLeaks described him as "for all intents and purposes incapacitated".
King Abdullah is now likely to summon the untested Allegiance Council of the ruling al-Saud family, set up in 2006 to make the succession process more transparent, to approve his preferred heir. In the past, the succession was decided in secret by the king and a coterie of powerful princes. Most analysts believe the new crown prince will be Nayef, who was appointed second deputy prime minister in 2009, a position usually given to the man who is third-in-line to rule."The problem is (the Allegiance Council) is a secret organisation that consists of members of the royal family and Saudi society has no say," said Madawi al-Rashid, author of A History of Saudi Arabia and critic of the ruling family. "Some sections of Saudi Arabia are worried. Nayef is known for security solutions. His rhetoric always invokes the sword."
Nayef has been interior minister since 1975 and has managed the kingdom's day-to-day affairs during the absences of both the king and crown prince.
He has gained a reputation as being more conservative than either King Abdullah or Sultan, with close ties to the country's powerful Wahhabi clergy.
Around the Web