AN, Turkey, (Reuters) – More than 100 people were  confirmed killed and hundreds more feared dead yesterday when a  powerful earthquake hit southeast Turkey, flattening buildings  and leaving survivors crying for help from under the rubble.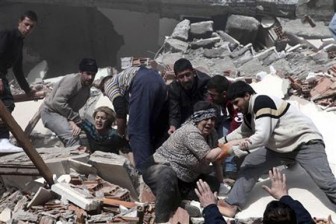 As a cold night fell, survivors and emergency workers  battled to pull hundreds of people believed to be buried under  debris in the city of Van and town of Ercis, where a student  dormitory collapsed.
Residents in Van joined in a frantic search, using  hands and shovels and working under floodlights and flashlights,  hearing voices of people buried alive calling from under mounds  of broken concrete in pitch darkness and freezing temperatures.
Prime Minister Tayyip Erdogan, who travelled by helicopter  to the area to see firsthand the scale of Turkey's worst  earthquake in a decade, told a nationally televised news  conference at least 138 people had been killed — 93 in Van city  centre and 45 in Ercis. The toll was expected to rise.
"The most important problem now is in the villages close to  Van city centre because the buildings are made of adobe. They  are more vulnerable to quakes. I must say that almost all  buildings in such villages are destroyed."
He said people were still trapped under rubble but gave no  figure. An official at the Van provincial crisis centre told  Reuters up to 600 people had been injured and 300-400 were  missing, feared buried beneath rubble of collapsed buildings.
The quake struck at 1041 GMT.
More accounts of dead bodies and destruction  emerged from smaller settlements across the remote area near the  Iranian border, most of them left without electricity or phone  access.
 BODIES     
"The death toll is rising. Rescue teams are taking out dead  bodies all he time," Reuters photographer Osman Orsal said in  Ercis, a town of 100,000 some 100 km (60 miles) north of Van  where a student dormitory collapsed.
In Van, a bustling and ancient city on a lake ringed by  snow-capped mountains and with a population of 1 million, cranes  were used to shift rubble of a crumpled six-storey apartment  block where bystanders said 70 people were trapped.
"We heard cries and groaning from underneath the  debris, we are waiting for the rescue teams to arrive," Halil  Celik told Reuters as he stood beside the ruins of a building  that had collapsed before his eyes.
"All of a sudden, a quake tore down the building in front of  me. All the bystand-ers, we all ran to the building and rescued  two injured people from the ruins."
At another site, three teen-agers were believed trapped under  a collapsed building. People clambered over the masonry,  shouting: "Is there anyone there?"
An elderly rescue worker sat sobbing, his exhausted face  covered in dust. Police tried to keep onlookers back. Ambulance  crews sat waiting to help anyone dragged out of the debris.
There were reports of more bodies being pulled from rubble  in hamlets outside Van. One village chief told NTV broadcaster:  "Nobody has reached us, we have received no medical aid, the  tents they sent are plain canvas. We are freezing."
No information was available on the fate of a 10th century  Armenian church on Akdamar Island — one of the last relics of  Armenian culture in Turkey, which was recently reopened by the  government as a peace gesture towards Armenia.
Around the Web