ERCIS, Turkey (Reuters) – Rescuers searched the rubble of collapsed buildings yesterday for survivors and victims of a major earthquake that killed at least 279 people and injured more than 1,300 in mainly Kurdish southeast Turkey.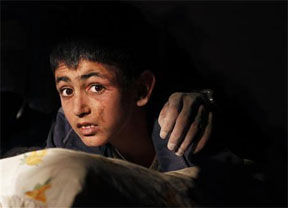 Rescue and relief efforts focused on the city of Van and the town of Ercis, 100 km (60 miles) to the north, but hundreds were also feared dead in remote villages of mud-brick houses after Sunday's 7.2 magnitude quake, Turkey's strongest in a decade.
Desperate survivors cried for help beneath heaps of smashed concrete and twisted metal, some using mobile phones to tell friends they were alive, as earth-moving machines and troops raced against time in Van and Ercis.
Thousands of people made homeless by the quake were forced to spend a second night outdoors in the hilly, windswept Van region, enduring near-freezing temperatures. Families huddled round open fires that glowed in the dark. Some stayed in tents put up on soccer pitches, living on handouts from aid agencies.
The UN disaster agency said almost 1,000 buildings had collapsed, many of them poorly built. A Red Crescent spokesman said the agency was preparing to provide refuge for as many as 40,000 people, though it was so far impossible to tell how many would need shelter.
Some residents of Van and outlying villages complained of a lack of government assistance, despite the dispatch of troops, mobile kitchens and up to 13,000 tents.
"We have to fit 37 people in one tent," said Giyasettin Celen, a 29-year-old who lost three family members in Dogonu Koyu, a village beside Lake Van where he said 15 people died.
"Our lost ones were carried like animals, on top of each other, in a transport van. Our main source of income here is livestock breeding, but we don't have anywhere to keep them. We will have to sell them now," he said.
Around the Web