CHICAGO, (Reuters) – Former Illinois Governor  Rod Blagojevich yesterday was sentenced to 14 years in  federal prison for political corruption including attempting to  sell the U.S. Senate seat vacated by then President-elect Barack  Obama.
Blagojevich, who turns 55 on Saturday, must serve at least  85 percent of the sentence or about 12 years before being  released under the sentencing guidelines.
He was convicted of seeking jobs and campaign contributions  in exchange for state government action. Blagojevich, a Democrat  who was ousted from office in 2009, had asked U.S. District  Judge James B. Zagel for mercy, saying he was "unbelievably  sorry."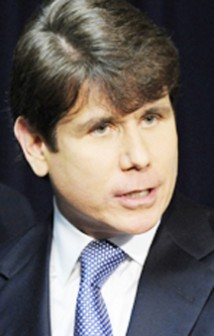 Zagel said before sentencing that he accepted Blagojevich's  apology, but "it comes too late." Zagel disputed the defense  theory that Blagojevich was misled by his staff.
"The governor was not marched along the criminal path by his  staff," Zagel said. "He marched them and ruined a few of their  careers."
During the trial, prosecutors presented evidence suggesting  Blagojevich sought $1.5 million in campaign contributions from  supporters of Representative Jesse Jackson, Jr., in exchange for  appointing him to the Senate seat. They also said Blagojevich  sought a cabinet post or a high-paying Washington job in  exchange for appointing Obama's choice to the Senate seat,  Valerie Jarrett, now a White House aide. He was also convicted of attempting to shake down the head  of a children's hospital for campaign cash in exchange for  authorizing an increase in doctor reimbursement fees, and  shaking down the head of Illinois racetracks in exchange for  approving legislation favorable to the industry.
Federal authorities, who had been taping Blagojevich's  profanity-laced conversations with aides, arrested him in  December 2008, before he could complete the crime, prosecutors  have argued.
Blagojevich was tried twice — first in August 2010, when he  was convicted of one charge of lying to investigators and jurors  deadlocked on 23 other counts. After a second trial this year,  he was convicted of 17 of 20 counts.
Blagojevich must report to prison on Feb. 16.    His predecessor in the governor's office, Republican George  Ryan, is currently in prison on corruption charges.
Around the Web