NASHVILLE, Tenn, (Reuters) – Grammy winning country  singer Kenny Rogers says he feels like he gets to celebrate  Christmas for more than a month, as opposed to just a day or  two for most everyone else.
This year superstar Rogers launched his 30th annual  Christmas & Hits Tour, which began on Nov. 25 and runs through  Dec. 23 with stops across the country. In more than three  decades of performing the show, the Georgia native has honed  his long celebration to perfection.
"We've done some pretty extravagant stuff over the years,"  the singer told Reuters. "The Christmas audiences come in to be  entertained, much more so than the audience the rest of the  year. They come in with a different mind-set; they are there  for the purpose of being lifted up."
Rogers performs some of his hits, such as "The Gambler,"  "Ruby Don't Take Your Love to Town" and "She Believes in Me."  But the heart of the show are his renditions of holiday  favourites such as "White Christmas," "Let It Snow! Let It Snow!  Let it Snow!," "The Christmas Song (Chestnuts Roasting On An  Open Fire)" and "O Holy Night."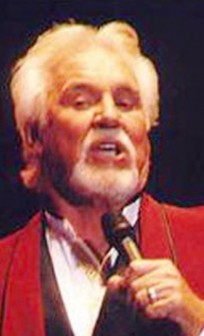 Thirty years ago, Rogers did not see himself doing a  Christmas show, much less one he puts on year after year.
The singer recalled a performance decades ago in Branson,  Missouri, and someone in the back yelling out, "Hey, it's  December. Aren't you going to do some Christmas music?"
Rogers directed the band to play "O Holy Night." The next  year he added two Christmas songs to his show, and slowly he  added more and more until he had a lineup of holiday music.
"After about two or three years, I thought we should just  do a big presentation, so I did an hour and twenty minutes of  Christmas music.
"Then it kind of reversed itself where some guy yelled out  for me to sing 'Ruby.' So we ended up putting together what we  do now, which is half a show where we sing our hits and the  other half where we sing Christmas songs."
The show features several set changes, a choir, and some  children selected from local schools and choruses to sing  Christmas carols, as well as Rogers' pal singer-songwriter  Billy Dean.
TALKING ABOUT THE SONGS  
Rogers also talks to audiences about the songs: who wrote  them, and where they originated. He'll change the song list and  stage events that engage the audience in the holiday spirit.
"It's a sweet little show, very family oriented, which is  what it's all about," Rogers said.
"The first half of the show has the more happy Christmas  songs, then the second half is more religious. Once we get into  the story of the Christ child and 'O Holy Night' or 'Away in a  Manger,' it becomes pretty spectacular. We end it with 'Til the  Season Comes 'Round Again,' which is this wonderful song about  what the Christmas spirit means to everyone."
Among his favourite memories of performing the show over  three decades, he said, was sitting on stage singing "Baby,  It's Cold Outside" with country singer Suzy Bogguss, who was  pregnant at the time.
"I used to do 'The 12 Days of Christmas,' and I would  invite 11 people up (on stage) and give them cards with 11 of  the 12 days and go down the line and make them sing their part.  It was one of the highlights of the show."
One year, he worked with local animal welfare groups and  got some 50 dogs adopted on a single evening.
"Things like that are the little things you can do when  you're out for the Christmas show that you can't do on a hits  show," Rogers said.
After the current Christmas series wraps in Westbury, New  York, Rogers said he will return home and share the holiday  with his family.
"Normally we have a really nice tree in our house that we  bought when the boys were born, but this year will be  different. We just sold our big house so we'll be spending  Christmas with (his wife) Wanda's sister and her family.
"No matter where we are it's a sweet time, and a very  special time of the year for me."
Around the Web