KINSHASA, (Reuters) – The main challenger in  Democratic Republic of Congo's election declared himself  president yesterday and poured scorn on provisional official  results handing victory to the incumbent, Joseph Kabila.
Clashes broke out between tyre-burning protesters and  security forces in the mostly pro-opposition capital Kinshasa  and fears mounted that a post-election dispute would reignite  conflict in the war-scarred central African state.
The head of the electoral commission said yesterday Kabila  won nearly 49 percent of the votes to his rival Etienne  Tshisekedi's roughly 32 percent, results that an observer group  later said appeared suspicious.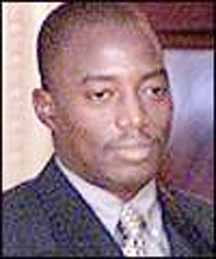 Electoral commission chief Daniel Ngoy Mulunda called for  calm. "(The results) are no reason to whip up the population  against the established order to contest the results, or to  settle scores," he told officials and diplomats gathered to hear  the results.
Tshisekedi said he rejected Kabila's victory and considered  himself the newly elected leader of Congo.
"I consider these results a real provocation of the  Congolese people," he said in an interview on RFI radio. "As a  consequence, I consider myself, from today, the elected  president of the Democratic Republic of Congo."       Opposition supporters burned tyres in parts of Kinshasa, a  sprawling city of 10 million, and chanted Tshisekedi's campaign  slogan, "the people first". A U.N. source said there had been  clashes with security forces and reports of shooting.
Gunfire erupted in Mbuji Mayi, an opposition stronghold in  the south of the country, an hour after Kabila was named winner,  a local civil society leader said. "We can hear gunshots  everywhere, it's still going on," he told Reuters.     Celebration broke out in other parts of the country. At least 18 people have been killed in election-related  violence so far, according to U.S.-based Human Rights Watch, as  opposition protesters took to the streets alleging the  government was attempting to rig the vote.
The Nov. 28 poll was Congo's first locally organised  presidential contest since a war that killed more than 5  million, and is meant to move the country towards stability and  encourage investment after years of conflict and turmoil.
Government Communica-tions Minister Lambert Mende said  Tshisekedi's self-declaration as president was "nonsense and  illegal" and warned that it could spark violence.
Around the Web