MOSCOW (Reuters) – In the middle of the crowd yesterday at Russia's largest opposition protest in years, a big banner bore a simple message: Putin must go.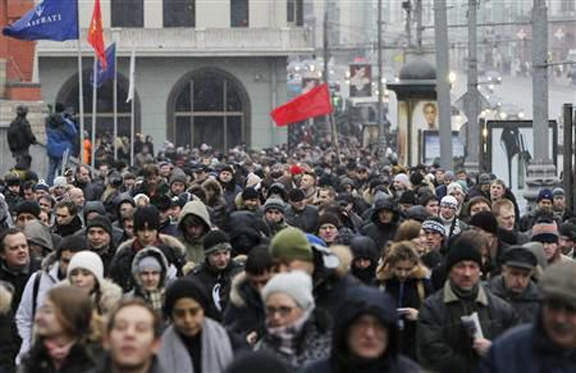 Anger over Russia's Dec 4 parliamentary election drew a diverse crowd to a cold embankment in Moscow, where they stood for hours under wet snow to demand a rerun of a vote Putin's foes say was rigged in his ruling United Russia party's favour.
But while organisers did not include the prime minister's resignation in their list of demands, much of the ire was directed at Putin.
For Olga, 38, the vote reconfirmed a conviction that as Putin has gained power over more than a decade as president and then prime minister, the people he governs have become increasingly powerless.
"It's his system," said Olga, a Musco-vite who would not give her last name.
Felix, 68, a retired military officer who remembers the huge demonstrations that accompanied the collapse of the Soviet Union 20 years ago, said he wanted Putin out but had no hope that this could be accomplished through elections.
"There is no way to change those in power within the electoral system they have set up, so we need to use other methods," he said, waiting for friends on a subway platform before the rally and ignoring a policeman with a megaphone calling for people to leave the station.
"More radical actions are needed, but the people are not ready for that yet … so for now we will protest," he said. "People must have their say and express their opinion."
At the protest, one man did so silently. Standing almost motionless for minutes at a stretch, he held a simple A4 size sheet of paper printed with the slogan: "Mr Putin, my civil rights are not your property."
Most of the protesters were more vocal, mixing shouted calls for a new election with chants of "Down with Putin!" and — one of the standard slogans at much smaller protests held by Kremlin foes before the election — "Russia without Putin!"
That Russia may not come for years, despite nationwide protests whose size — unthinkable even a few weeks ago — prompted one speaker to say that opposition flags would soon fly from the Kremlin's towers.
Recent opinion polls have shown Putin, president for eight years until 2008 and prime minister since then, remains the most popular politician in Russia.
He can count on millions of votes in a March 4 presidential election in which polls indicate he will win a six-year term.
Around the Web