UNITED NATIONS (Reuters) – The death toll in Syria's nine-month crackdown on an uprising against President Bashar al-Assad has now passed 5,000, United Nations human rights chief Navi Pillay told the Security Council yesterday.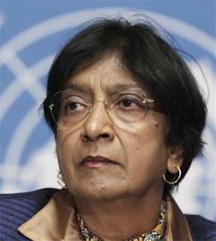 The figure represents a sharp increase over the more than 4,000 that she cited just 10 days ago.
"Today I have reported that the figure exceeds 5,000," Pillay told reporters after briefing the council in closed session on what she called the "intolerable situation" in Syria.
The figure included civilians, defecting soldiers and those executed for refusing to shoot civilians, but did not include members of the military and other security forces killed by opposition forces, she told the council.
More than 14,000 people were reportedly in detention, at least 12,400 had sought refuge in neighboring countries and tens of thousands had been internally displaced, she said, also citing "alarming reports" of moves against the city of Homs. "Independent, credible and corroborated accounts demonstrate that these abuses have taken place as part of a widespread and systematic attack on civilians," Pillay said, according to briefing notes seen by Reuters.
She told the council her information was based on information from more than 230 witnesses, participants said.
Pillay repeated suggestions that the actions of the Syrian government could constitute crimes against humanity and issued a fresh call for the council to refer the situation to the International Criminal Court.
Around the Web