LOS ANGELES, (Reuters) – Grammy-winning R&B singer  Etta James is terminally ill, her live-in physician said in an  interview this week that confirmed reports of the singer's  fading health.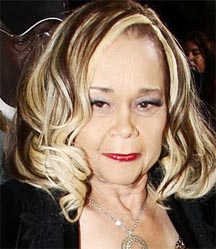 Dr. Elaine James, who is no relation to the singer, told a  California newspaper in a video interview that the 73-year-old  "At Last" singer has leukemia, dementia and kidney disease  among her "many, many illnesses."
"At the present time, Etta is considered terminally ill,"  the doctor told the Press-Enterprise newspaper in Riverside,  California, east of Los Angeles. Dr. James added that the  diagnosis was made about two weeks ago by three medical  specialists including an oncologist and an internist from a  local hospital where the singer is frequently treated.
James' two sons, Donto and Sametto, told Reuters on Friday  that they were not sure the terminally ill diagnosis was  accurate and it was announced without the family's agreement.
The singer's sons are currently involved in a court battle  with their stepfather Artis Mills over conservatorship of  James' $1 million estate.
Both sons agree that their mother's health is deteriorating  and felt that she should be admitted to hospital rather than  receiving care at her home in Riverside.
Around the Web