Tunis,  (Reuters) – Tunisia's new president  announced yesterday he would sell off most of the presidential  palaces built by the country's ousted dictator and use the cash  to fund new jobs, a gesture aimed at soothing anger over high  unemployment.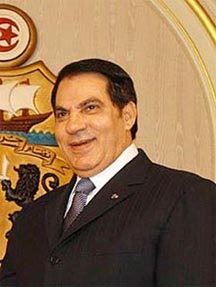 Protests demanding jobs and improved living standards  toppled President Zine al-Abidine Ben Ali on Jan. 14. The  revolution inspired the "Arab Spring" upheavals, but the social  problems behind Tunisia's revolt have since grown worse.
Moncef Marzouki, a political prisoner under Ben Ali, was  made president this week as part of a governing coalition  brought to power in the country's first democratic election.
The new government faces the challenge of reviving a  spluttering economy and meeting expectations from millions of  Tunisians that the revolution, as well as bringing democracy,  would improve daily lives in the North African state.
"Moncef Marzouki announced on Friday that the presidential  palaces will be sold, with the exception of Carthage Palace, and  the money will be allocated to support the employment sector,"  the state news agency said.
Ben Ali and his wife, Leila Trabelsi, now in exile in Saudi  Arabia, were widely detested for their extravagant lifestyle.
The former president, in power for over two decades, built  several luxury palaces, including Sidi Dharif in the Sidi Bou  Said district near Tunis, and Hammamet, east of the capital,  where he spent his summer vacations.
Local media have reported that Ben Ali spent billions of  dollars constructing the palaces, which boast vast grounds with  swimming pools and golf courses.
Tunisian courts this year sentenced Ben Ali and his wife, in  absentia, to prison terms on charges of financial corruption.
Marzouki, who will serve as president until new elections  are held in about one year, has made fighting unemployment and  corruption his priorities.
In the months since the revolution, Tunisia has seen violent  protests over poor living standards.
Around the Web