SEOUL (Reuters) – North Koreans poured into the streets yesterday to mourn the death of leader Kim Jong-il and state media hailed his untested son as the "Great Successor" of the reclusive state whose atomic weapons ambitions are a major threat to the region.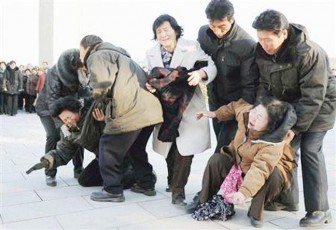 Earlier, a tearful North Korean television announcer, dressed in black and her voice quavering, said the 69-year old ruler died on Saturday of "physical and mental over-work" on a train on his way to give "field guidance" — advice dispensed by the "Dear Leader" on trips to factories, farms and the military.
Security concerns over North Korea, which in 2010 shelled civilians on a South Korean island and is accused of sinking one of its warships earlier that year, were heightened after Seoul said the North had test-fired a short range missile shortly before the announcement of Kim's death.
It was the first known launch since June and South Korea's defense ministry said it might abandon plans to light Christmas trees on the border, something the North has warned could provoke retaliation.
Martin Dempsey, chairman of the US military's Joint Chiefs of Staff, said the missile test had likely been planned before Kim's death and US officials said the military had so far not raised alert levels for some 28,500 US troops in South Korea.
North Korea's official KCNA news agency lauded Kim's youngest son, Kim Jong-un as "the outstanding leader of our party, army and people."
A KCNA dispatch said North Koreans from all walks of life were in utter despair but were finding comfort in the "absolute surety that the leadership of Comrade Kim Jong-un will lead and succeed the great task of revolutionary enterprise."
There was uncertainty about how much support the third generation of the North's ruling dynasty has among the ruling elite, especially in the military, and concern that he might need a military show of strength to help establish his credentials.
"Kim Jong-un is a pale reflection of his father and grandfather. He has not had the decades of grooming and securing of a power base that Jong-il enjoyed before assuming control from his father," said Bruce Klingner, an Asia policy analyst at the Heritage Foundation in Washington.
"(He) may feel it necessary in the future to precipitate a crisis to prove his mettle to other senior leaders or deflect attention from the regime's failings."
Chinese state television showed North Koreans crying in the capital of Pyongyang. KCNA reported people were "writhing in pain" after losing the man who in 1994 succeeded his father Kim Il-sung, the North's first — and officially eternal — president as leader of the totalitarian state. An "endless stream" of soldiers, working people and students visited a massive memorial of Kim Il-sung in central Pyongyang mourning the death of the "Dear Leader" until past midnight. "They are weeping bitterly out of self-reproach and regret that they failed to keep Kim Jong-il in good health," KCNA said.
Kim will be laid to rest next to his father, the agency said. The funeral of Kim Jong-il, turned into a demi-god by his propaganda machine, will be held on December 28.
News of the death of the man whose push to build a nuclear arsenal left the North heavily sanctioned and internationally isolated, triggered immediate nervousness in the region, with South Korea stepping up its military alert.
China, North Korea's neighbour and only powerful ally, said it was confident the North would remain united and that the two countries would maintain their relationship. Expressing grief at Kim's death, China's Foreign Ministry spokesman Ma Zhaoxu was quoted by Xinhua news agency as saying, "We are confident the North Korean people will be able to turn their anguish into strength and unify as one."
There was less regret from Western leaders, with Canadian Prime Minister Stephen Harper saying Kim had "violated the basic rights of the North Korean people for nearly two decades."
Western officials sought to put a positive spin on Kim's passing, suggesting the new leadership had a chance to engage with the world. US Secretary of State Hillary Clinton voiced "hope for improved relations with the people of North Korea."
Clinton also said she had been in touch with other participants in stalled six-nation talks on North Korea's nuclear programme but did not elaborate. Washington and its main Asian allies have resisted calls to resume the talks, saying Pyongyang must first halt provocative actions.
While his father had 20 years as official heir, Kim Jong-un only became successor by taking on official titles last year, months after Kim Jong-il suffered a stroke around August 2008.
He takes over an economy that has been ravaged by years of mismanagement under Kim Jong-il, who only briefly flirted with economic reform, preferring to stick with central planning and the brutal crushing of any opposition.
Around the Web