BAGHDAD, (Reuters) – Iraqi authorities issued  an arrest warrant for Sunni Muslim Vice-President Tareq  al-Hashemi on Monday for suspected ties to assassinations and  bombings, a decision likely to fuel sectarian tensions after the  U.S. troop withdrawal.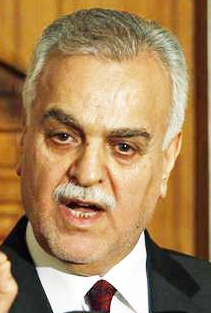 The move risks unravelling Iraq's fragile power-sharing deal  among Shi'ite, Sunni and Kurdish blocs who have struggled to  overcome tensions just a few years after sectarian slaughter  drove the country to the edge of a civil war.
Interior Ministry spokesman, Major General Adel Daham, told  a news conference confessions by suspects identified as  Hashemi's bodyguards linked the vice president to killings and  attacks on Iraqi government and security officials.
"An arrest warrant was issued for Vice President Tareq  al-Hashemi according to Article 4 of the terrorism law and is  signed by five judges… this warrant should be executed," Daham  said, waving a copy of the document in front of reporters.
The political struggle between Shi'ite Prime Minister Nuri  al-Maliki and his Sunni rivals in the country's delicate  power-sharing deal has intensified during the withdrawal of the  last U.S. troops nearly nine years after the invasion.
The ministry showed taped confessions, aired on state-run  Iraqiya television and other local media, of men it claimed were  members of Hashemi's security detail. The men said they had been  paid by his office to carry out killings.
The three men shown on television detailed the  assassinations they were told to carry out by Hashemi's aides  including planting roadside bombs and driveby shootings of  security and government officials.
One man said he was handed $3,000 as a reward by Hashemi  himself.
But the identity of the men could not be independently  confirmed.
Hashemi, who could not be contacted for a response, was in  Kurdistan, a semi-autonomous enclave in the north, Kurdish  political sources said. Kurdistan has its own government and  security forces, making Hashemi's immediate arrest unlikely.
In a statement earlier on Monday, Hashemi accused Maliki's  government of "deliberate harassment" after his plane was  delayed for three hours at Baghdad airport. He had been heading  for the Kurdish city of Sulaimaniya to meet the Iraqi president.
Security forces arrested three Hashemi bodyguards on their  way back from the airport, the statement said, adding military  forces surrounding Hashemi's house for weeks had been beefed up.
"The vice-president has been very patient and is waiting for  a reasonable explanation from the government parties concerned,"  the statement said.
Around the Web