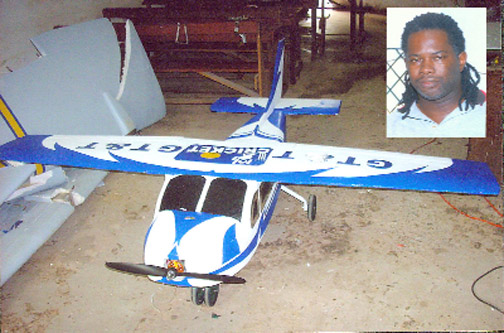 Dear Editor,
The world has produced  people galore of genuine class – geniuses – and will continue to do so. Some have been proclaimed and have risen to fame, while others, unluckily have not attracted their fair share of recognition. Here in Guyana we have not been left out; we too have been blessed with remarkable personalities who have left indelible impressions. As in other parts of the world through the ages, however, so too we have among us fascinating characters performing stupendous works but who remain hidden in the dark. Let me in passing say once again that the cartoons of Paul Harris and the 'Nostalgias' of Godfrey Chin are works that definitely can be described in superlatives.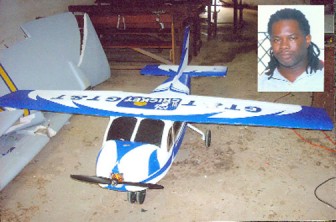 In the mining town of Linden lives a special and interesting youngster who exhibits a touch of genius; a master builder of remote control model planes; his name is Troy Roberts. Though well known in the Linden community (he works as a DJ), he is yet to receive his due credit and acclaim since only a smattering of people outside Linden have ever heard about him or are familiar with his prolific production of these models. And for those few who have had the opportunity to view his work, all have been amazed and have applauded him. Self taught with absolutely no guidance except for the internet and a fascination for planes from when he was a child, he had a deep yearning to become a pilot, but now chuckles at the thought that he has accepted being a "model pilot." Troy has mastered this skill all by himself through endless trial and error; he eats, sleeps, and dreams of planes.
It is of some importance to note here with a sense of national pride that he is believed to be the only person in the entire Caribbean who builds model planes from scratch, except for the engines which he orders. All others in this game purchase model kits and assemble them. Troy has been going great guns since he started 2-3 years ago. His progress has been superb; starting with models as small as 7" he has to date built one 18ft and has in total constructed some 120 models. Quite a feat! A visit to his storeroom in his back yard reveals a wide assortment of models of all sizes hanging from the ceiling and covering every inch of the walls. One is left in bewilderment; it grows the skin to behold what this young man has been able to craft with only a kitchen knife and sandpaper as his main tools. There are spy models, stealth bombers, Pitts (those with double wings), amphibian model; and commercial models. He can build almost any type of plane he sees, even create his own design, and has also challenged the trend in which plane engines are generally placed at the front. He has experimented with putting the engine at the back of his models with equal success. This is a rather painstaking, time-consuming, even somewhat tedious exercise that requires a meticulous approach. He spends endless hours building and doctoring these models, using slabs and scraps of styrofoam which he cuts, shapes and pastes with precision that needs to be maintained at all costs, as equilibrium is a main factor in this process among other technical and engineering considerations. Physics, aerodynamics, etc,  must equally be applied for the successful completion of any model. Flying for Troy is a hobby he loves, requiring much dexterity; it is certainly not a job for kids.
No doubt there were disappointments and heartrending moments in the initial stages of trial and error, but he remained undaunted and with an indomitable will he persevered. He eagerly mentioned that he made 48 models before he was successful in getting the first one airborne. What is also to his credit is that from the production of over 120 planes he has never replicated any one of them.  This youngster is good, so positive, so assured, that he says to me in utter excitement: "Look, I can shut my eyes and mek a plane and d-sure that it will fly, I don't have to study that." Certainly this is someone who knows what he is about. This skill that Troy Roberts is endowed with is really incredible; one has to see the videos he has documenting his every step from start to finish. The video-recording he does himself – another tedious activity, stopping, resetting and angling the camera, breaking his concentration, but he gets the job done well.
But building these model planes has brought out other skills in him; he does his own design painting that gives them that glow and an exquisite appearance. For good measure, adding to the excitement of viewers, he has equipped some the combat models with paratroopers, made from toy soldiers he bought and fitted with parachutes that he designed himself. He manipulates the jumps by remote control. It is really an eye-catching spectacle to behold: 6-8 paratroopers descending in slow motion, just amazing. Equally creative is the attaching of the video camera capturing the scenery of central McKenzie which from above seems to transform Linden into most beautiful terrain.
Certainly it is his love and dedication to this hobby to which must be attributed his mastery of it, and his knowledge continues to grow with every succeeding creation. Yet, though imbued with confidence, Troy was honest and humble in acknowledging that while he has acquired a fair amount of practical experience in respect of model planes he desires to further his knowledge of aeronautics, and welcomes any opportunity to do so. His passion for planes has contributed to him focusing less on his music, which is his only source of income and must be kept as top priority since that is what supports the activity he dreams constantly about.
As a music man and popular DJ who owns and operates the ubiquitous Movement Sound System which is constantly in demand, one wonders how on earth this youngster manages his time. He is constantly battling with sleep, often working into the wee hours of the morning. A further challenge to him but which seems not to bother him, is that of space. Troy works in the confined quarters of a room under his home in Cedar Street, which is also a classroom, so whenever he needs to work, which invariably is before and after classes, he has to be disarranging things and putting them back in order, assembling and disassembling his models (large ones); it is quite fatiguing, though he has become accustomed to it. Lindeners have become very familiar with the droning sound of flying objects circling central McKenzie, mostly on weekends. The young men especially are fascinated and somehow seem to know just when he is going to fly – done mostly from the McKenzie Sports Club ground. But this hobby on which Troy expends so much of his talent and time is no play or mean deal; it is very costly, and involves him spending as much as $30,000 on epoxy paste alone for one model (40-50 tubes at $600 per tube for larger planes); batteries for engines ranging from $10-15,000; navigational lights/flash lights; for his 18ft model he imports styrofoam. He spoke of how he has been gripped by frustration because of not being able to finance some of the projects he badly wants to get going. With so many ideas and plans growing inside his head, he just can't wait to release them. I trust that by way of this letter he will be able to shake loose the stagnation through some magnanimous gesture from God knows who. And he did express gratitude for a $300,000 donation he received some time back through the Office of the Prime Minister and the Ministry of Labour and Human Resources for the production of the 18ft model. But his ultimate dream is to create history by building a larger size model that can fly with a person inside. It would have a forty foot wing span and is estimated to cost approximately $8-10M. This is a goal he intends to accomplish, all things being favourable, and believe me, he already has the model in his head. With his skill, determination and passion I think would be a piece of cake for Troy, since he does not sleep to dream but dream to succeed, to make a difference. There is a fire burning inside of him for making model planes and piloting them. And though at the moment his recognition is not commensurate with his superb talent, in the fullness of time that will come. We Lindeners all stand by him and wish him well in his quest to create history within the arena of model plane flying. For those Lindeners interested in model plane flying, Troy has a model plane flying festival on November 3, where participants from the Caribbean will be in action.
Yours faithfully,
Frank Fyffe     
Around the Web