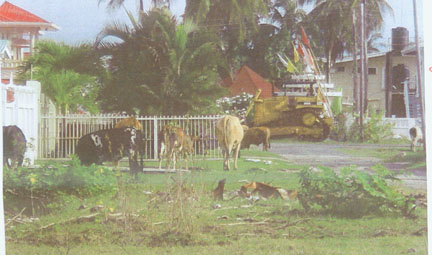 Dear Editor,
There is a serious case of cattle nuisance in Happy Acres, a residential community on the East Coast of Demerara.  Several reports to all the relevant agencies have been disregarded, while letters of complaint with signatures from 19 residents have been to no avail. An article captioned 'Happy Acres transformed into grazing pasture' was published in the Kaieteur News on January 11, 2006, but this also failed to evoke any response. I also sent letters dated September 16, 2011 with supporting documents and photographic evidence to the Minister of Home Affairs; the Minister of Local Government and the Chairman of the LBI/Better Hope NDC, but my effort was only rewarded with a formal letter of acknowledgement from the Ministry of Home Affairs.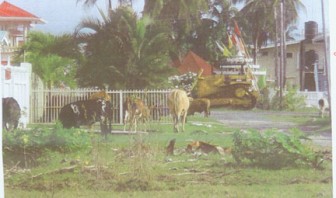 I recently spoke to a senior officer (Mr Ovid Glasgow) at the Ministry of Home Affairs who advised me that the local authority has the power to deal with, or authorize any person to impound cows that invade our community.  I even attached a copy of the said authority in the mail that I dispatched, and further contacted the Chairman of the LBI/Better Hope NDC on the matter. There has been no response to this issue, which was rather expected since other issues including appeals for better roads in Happy Acres are not being addressed while those in surrounding areas are being upgraded.
To date, the cows continue to roam unattended; defecate on our driveways and scavenge in our garbage bins.
Where can I go or who can I turn to? as cleaning cow dung is now a routine affair.
Yours faithfully,
Maurice Rajkumar
Editor's note
We are sending a copy of this letter to Ms Suzanne Singh, the Overseer of the LBI/Better Hope NDC for any comment she might wish to make.
Around the Web