The Berbice Cricket Board (BCB) with sponsorship from the National Communications Network Inc. (NCN) last Saturday launched the 2011 NCN Inter-zone Under-15 Tournament for cricketers in the ancient county at State House, New Amsterdam.
According to a press release, Regional Manager of NCN Berbice Operations, Faizal Jaffarally, stated that his company was quite pleased with the BCB in the manner they organized the 2010 competition  and had no hesitation  coming onboard again in 2011 as he handed over a sponsorship cheque of $205,000.
Jaffarally highlighted the BCB as an exemplary  role model organization in Guyana.President of the BCB, Keith Foster, expressed his gratitude to NCN for staying the course with Berbice cricket and disclosed that last year's sponsorship had assisted the county to dominate the Guyana Cricket Board Inter-county tournament.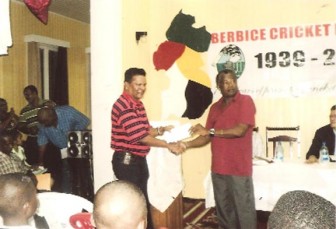 Foster expressed gratitude especially to NCN executives Jaffarally and Mohamed `Fuzzy' Sattaur for the role they have played in securing the sponsorship.
Meanwhile, BCB Special Events member, Nermala Sewdat, who chaired the presentation, disclosed that the tournament would start shortly in conjunction with the Tenelec Inc Inter-club Tournament.  The four Inter-zone teams that would be part of the NCN competition are: West Berbice, New Amsterdam/ Canje, Lower Corentyne and Central/Upper Corentyne. The Inter-zone matches would be used as trial matches to select the Berbice Under-15 team to play in the GCB Inter-county Tournament.