The Berbice Cricket Board (BCB) with sponsorship from the National Communications Network Inc. (NCN) last Saturday launched the 2011 NCN Inter-zone Under-15 Tournament for cricketers in the ancient county at State House, New Amsterdam.
According to a press release, Regional Manager of NCN Berbice Operations, Faizal Jaffarally, stated that his company was quite pleased with the BCB in the manner they organized the 2010 competition  and had no hesitation  coming onboard again in 2011 as he handed over a sponsorship cheque of $205,000.
Jaffarally highlighted the BCB as an exemplary  role model organization in Guyana.President of the BCB, Keith Foster, expressed his gratitude to NCN for staying the course with Berbice cricket and disclosed that last year's sponsorship had assisted the county to dominate the Guyana Cricket Board Inter-county tournament.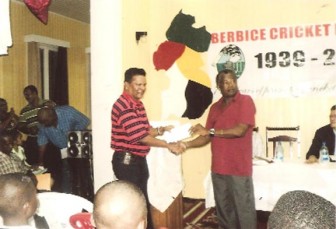 Foster expressed gratitude especially to NCN executives Jaffarally and Mohamed `Fuzzy' Sattaur for the role they have played in securing the sponsorship.
Meanwhile, BCB Special Events member, Nermala Sewdat, who chaired the presentation, disclosed that the tournament would start shortly in conjunction with the Tenelec Inc Inter-club Tournament.  The four Inter-zone teams that would be part of the NCN competition are: West Berbice, New Amsterdam/ Canje, Lower Corentyne and Central/Upper Corentyne. The Inter-zone matches would be used as trial matches to select the Berbice Under-15 team to play in the GCB Inter-county Tournament.
Comments

The Guyana government stepped in on Friday and bailed the Guyana Rugby Football Union (GRFU) out of its financial predicament allowing for the male and female rugby teams to compete at this year's Rugby America's North (RAN) 7s Championship this weekend in Mexico.

KOLKATA, (Reuters) – India's captain Virat Kohli staved off the threat of defeat before their fast bowlers ensured the hosts finished on a high in the drawn opening test against Sri Lanka in an enthralling final day at the Eden Gardens yesterday.

The 2017 edition of the Guinness 'Greatest of the Streets' George-town Championship was officially launched yesterday at the Thirst Park Sports Club.
NEW YORK, (Reuters) – A government witness in the U.S. corruption trial related to soccer's world-governing body FIFA testified yesterday about millions of dollars paid to former soccer officials in exchange for broadcasting and sponsorship rights for international tournaments, all logged in a secret spreadsheet.

Young Achievers Volleyball club was once again the dominant force on the Demerara volleyball circuit after downing their counterparts from the Vanguard Volleyball club in straight sets in the final of the Demerara Volleyball Association (DVA) Men's 'B' division playoff played at the National Gymnasium, Sunday evening.