NEW DELHI, (Reuters) – India's top order batsmen  will need to find an effective counter to Australia's fast  bowlers in today's World Cup quarter-final if they are to  sustain a billion dreams.
There is every possibility that Australia would unleash a  three-pronged pace attack in Ahmedabad to exploit India's  perennial weakness against the fast, rising deliveries that was  so cruelly exposed in Chennai on Sunday even by the modest pace  of West Indian Ravi Rampaul.
Compared to West Indies, Australia possess a much more  potent attack comprising Brett Lee, Shaun Tait and Mitchell  Johnson who would crank up  the maximum pace they can and direct  most of their deliveries to the rib cages of the Indian batsmen.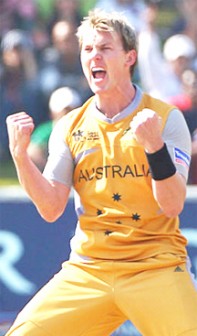 Both the Indian openers, Sachin Tendulkar and Gautam  Gambhir, fell to rising deliveries in Chennai and Yuvraj Singh,  who struck his 13th ODI century to power India to victory,  survived one when he was dropped by West Indies skipper Darren  Sammy at point.
India would be naive to believe that Australia skipper Ricky  Ponting did not watch and make a note in his diary.
Yuvraj, however, was quick to dismiss the suggestion.
"I don't think there is an issue with the short ball," he  said.
"If you have an issue with the short ball, you won't be  number one test team and number two one-day team… Definitely  we know they have pace and they get wickets with that. We will  be prepared for them."
India believe in Virender Sehwag, they have a batsman who  can blunt the Australian pace attack single-handedly and no ploy  would work if the opener gets going.
Sehwag missed the match against West Indies with a knee  problem but is certain to open the innings today with  Tendulkar, who is on the verge of yet another personal milestone  — his impending 100th international century.
Off-spinner Ravichandran Ashwin also gave a good account of  himself, opening the attack against West Indies and Virat  Kohli's return to form also augurs well for the side which has  shown a recent tendency to squander strong foundations and  collapse at the most inopportune time.
Australia would expect their pacemen to force another great  Indian collapse in Ahmedabad in front of a full-house at the  Sardar Patel Stadium.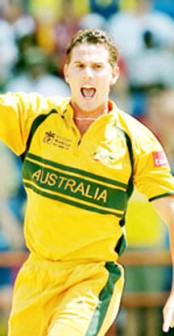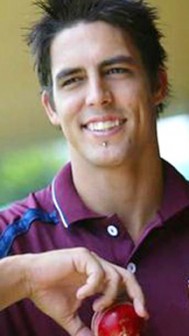 Unlike the co-hosts, four-times champions Australia have  already played a match at Ahmedabad where they crushed Zimbabwe  by 91 runs with Lee, Tait and Johnson claiming seven of the 10  wickets.
Lee has been regularly among the wickets with 12 scalps from  six outings, while Tait and Johnson have 10 apiece.
Smarting from the defeat by Pakistan that also snapped their  34-match unbeaten run in World Cups dating back to 1999, Ponting  is not happy with the batsmen.
He was particularly annoyed with the sluggish start provided  by Shane Watson and Brad Haddin against Pakistan which, he felt,  put avoidable pressure on the middle order.
"They ate up too many balls, played too many dot balls and  that cost us," Ponting wrote in a newspaper column.
Incidentally, he himself has not really set alight the  tournament with the bat so far and his highest score in the  tournament being the 36 he scored against Kenya.
Ponting would derive inspiration from the 2003 final in  which he tore apart India's bowling to smash a belligerent  century and guide Australia to their their second successive  World Cup victory.
Around the Web