Fairy Landing of the Sheriff Racing Stable won the feature B class event before the curtains came down on the Kennard Memorial Turf Club Phagwah horse race meet on Sunday.
The horse, ridden by Colin Ross, took the six-furlong race and the $400,000 top prize, along with the Charles and Stella Kennard trophy. The horse finished ahead of Fresh Prospect, Sir Balajee and King Maker.
Krishna Singh guided Irish Girl to victory in the six- furlong three-year-old event for Guyana and West Indies bred horses. Face the Fire and J.D. Junior finished in second and third respectively. The winner copped $250,000 and the Harry Saroop trophy.
The Digicel sponsored F class event saw Dubai Duchess of the Sheriff stable easily winning another six-furlong race. Dubai Duchess, after winning two races in the last horse race meet, defeated The Gap and Harry Dreams to win the $250,000 bacon and trophy, compliments of Digicel.
Ross rode another horse to victory, this time The Gap of the Customs Racing stable in the G class race for the $200,000 first prize and the El Dorado trophy. Stable-mate Pixie Fire, South Sea and Lady of My Dreams were second, third and fourth respectively.
Jamaican jockey Andron Findley was the man in the saddle as Funny Sided of the Gray stable took the pole position in the H class category to win $150,000 and trophy. The animal was able to power away with a few meters to go to win ahead of Diplomat, Sun Razor and Over the Mat.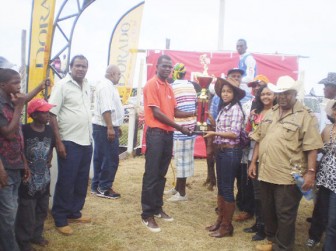 Zebra beat Diplomat, Sun Razor and El Gato in a close finish to take $120,000 and trophy.
The JKL six-furlong event with a first prize of $110,000 and the Guyana Tourism Authority trophy which were up for grabs was taken by Pinky of the Customs Stable with Ross in the saddle. The other placings in the six-furlong event were Silver Kid, Justin and Foolish Pleasure.
The Champion Jockey was Colin Ross with Rupert Ramnauth being the runner-up. Customs racing stable was declared the champion and were presented with trophies from the Trophy Stall, Bourda Market and some other donors.   The day's activity was by and large incident free. Close to $4M were up for grabs, which saw over 60 horses taking part.
The next race meet on the horse racing calendar is set for Sunday, March 27 at the Ryan Crawford Memorial Turf Club, Alness, Corentyne.
Around the Web