DHAKA, Bangladesh, CMC – West Indies exited the World Cup without so much as a whimper, suffering an appalling batting collapse as they plunged to an embarrassing 10-wicket defeat to Pakistan in a lopsided quarter-final contest here yesterday.
Winning the toss and batting first at the Shere Bangla National Stadium, the Windies were routed for 112 off 43.3 overs – their third lowest score in a World Cup – after failing to recover from a difficult 16 for three in the sixth over.
Proving there were no devils in the pitch, Pakistan's openers Mohammad Hafeez (61) and Kamran Akmal (47) then cruised to their target off just 20.5 overs to set up a semi-final showdown with either Australia or India who play the second quarter-final today.
West Indies have been plagued by weak batting throughout the tournament and the script proved no different in yesterday's first match of the elimination round.
Only veteran left-hander Shivnarine Chanderpaul, with an unbeaten 44 from 106 balls, offered any resistance as the Pakistani spinners ripped through the Caribbean side's batting.
Leg-spinner and captain Shahid Afridi was the most virulent with four for 30 while off-spinners Mohammad Hafeez (2-16) and Saeed Ajmal (2-18) snapped up two wickets apiece.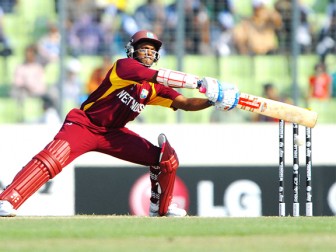 The carnage that unfolded appeared farfetched when opener Devon Smith cracked the first ball of the match from seamer Umar Gul behind square for four, and Chris Gayle clobbered Hafeez over midwicket in the next over for another boundary.
In Gul's next over, Gayle advanced down the wicket to smash the third ball over mid-off for four but in attempting an encore two balls later, he succeeded only in picking out Afridi at extra cover to depart for eight with the score on 14 in the third over. West Indies then suffered a huge double blow in the sixth over when Smith (7) and Darren Bravo (0) were both trapped lbw in the space of four balls, pushing forward to identical deliveries from Hafeez, as the innings spiralled into turmoil at 16 for three. Chanderpaul and Ramnaresh Sarwan, who hit a watchful 24, then set about repairing the innings with an ultra-cautious stand of 42 for the fourth wicket.
In perhaps the last World Cup innings of his career, Chanderpaul struck one six – a clean hit over wide midwicket off Ajmal in the only real shot of aggression during his innings. Sarwan, meanwhile, dropped on 13 by Gul running around at extra cover, faced 68 balls and counted two boundaries. But with runs coming in a trickle, the experienced right-hander slashed an innocuous delivery from Afridi to Umar Akmal at point, to leave the Windies on 58 for four in the 25th over.
His dismissal sent the innings into terminal decline as West Indies shockingly lost their last seven wickets for 54 runs, with four wickets tumbling at one point for just two runs.
Big-hitting Kieron Pollard edged a dab at Afridi to depart for one at 69 for five and off the very next ball, Devon Thomas was lbw on the backfoot, to leave Afridi on a hat-trick.  Captain Darren Sammy foiled Afridi's attempt but it was a temporary stay of execution as he was palpably lbw in the next over for one, complete bamboozled by an Ajmal doosra he failed to read.
Three balls later without a run added, Devendra Bishoo was bowled through the gate by another doosra from Ajmal, leaving the Windies tottering on 71 for eight and in danger of being dismissed for their lowest ever score in a World Cup. But Kemar Roach (16) partnered Chanderpaul in a 40-run ninth wicket stand that pushed West Indies past the 100-run mark and helped them avoid the previous lows of 93 against Kenya in 1996 and 111 against Australia in 1999.  Once Roach chipped a catch to Younis Khan at mid-on off Abdul Razzaq, the innings folded swiftly with Ravi Rampaul giving Afridi his fourth wicket, bowled without scoring.
Man-of-the-Match Hafeez then stroked 10 fours off 64 balls while Kamran Akmal struck seven fours off 61 balls, as they heaped misery on the Windies with a breezy opening stand.
Both batsmen were handed reprieves when Pollard dropped Kamran Akmal on six and wicketkeeper Thomas let off Hafeez on 17, summing up a wretched day for the Caribbean side on the Asian subcontinent.

SCOREBOARD
WEST INDIES
D Smith lbw b Mohammad Hafeez                              7
C Gayle c Shahid Afridi b Umar Gul                           8
R Sarwan c Umar Akmal b Shahid Afridi               24
D Bravo lbw b Mohammad Hafeez                               0
S Chanderpaul not out                                                   44
K Pollard c wkp Kamran Akmal b Shahid Afridi       1
+D Thomas lbw b Shahid Afridi                                     0
*D Sammy lbw b Saeed Ajmal                                        1
D Bishoo b Saeed Ajmal                                                     0
K Roach c Younus Khan b Abdul Razzaq                     16
R Rampaul b Shahid Afridi                                              0
Extras (lb2, w7, nb2)                                                       11
TOTAL (all out, 43.3 overs)                                          112
Fall of wickets: 1-14 2-16 3-16 4-58 5-69 6-69 7-71 8-71, 9-111 10-111.
Bowling: Umar Gul 7-1-13-1, Mohammad Hafeez 10-3-16-2 (2w), Wahab Riaz 6-0-29-0, Shahid Afridi 9.3-1-30-4, Saeed Ajmal 8-1-18-2, Abdul Razzaq 3-1-4-1.

PAKISTAN
+Kamran Akmal not out                                         47
Mohammad Hafeez not out                                     61
Extras (lb4, w1)                                                           5
TOTAL (without loss, 20.5 overs)                  113
Did not bat: Asad Shafiq, Younus Khan, Misbah-ul-Haq, Umar Akmal, Abdul Razzaq, *Shahid Afridi, Umar Gul, Wahab Riaz, Saeed Ajmal.
Bowling: Roach 5.5-0-39-0, Rampaul 5-1-28-0, Bishoo 5-1-24-0, Sammy 5-1-18-0.
Result: Pakistan won by 10 wickets.
Position: Pakistan qualify for semi-finals.
Man-of-the-Match: Mohammad Hafeez.
Toss: West Indies.
Umpires: Billy Bowden, Steve Davis; TV – Daryl Harper.
Around the Web