The Guyana Squash Association (GSA) has scheduled the hosting of its Annual General Meeting (AGM) for tomorrow according to president of the association, Andrew Arjune.
The meeting is expected to include the customary election of office bearers and the reading of the body's financial report for last year.
From all indications, all of the incumbent members will be seeking reelection to their positions while there has been no indication of anyone hoping to challenge any of the current executives.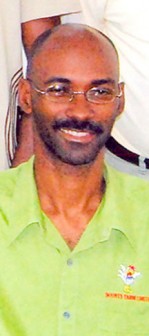 Arjune has indicated that all of the financial members affiliated to the GSA are eligible to be a part of the electorate.
The current executives were voted into office at last year's AGM.
The current executives are as follows: President – Andrew Arjune, Vice President – David Fernandes, Secretary – Vidushi Persaud, Treasurer – Garfield Wiltshire, Tournament Chairperson – Deje Dias, Junior Affairs Coordinator – Tiffany Solomon and Club Coordinator – Roderick Lovell.
Around the Web