Trinidad & Tobago captain Darren Ganga is hoping that favourable weather prevails over the next four days since his team aims to take full points against Guyana in the WICB Regional four-day game that begins today at the National Stadium.
Apart from the Guyanese woeful batting display throughout the tournament, the local team has been dogged by persistent adverse weather that saw their game against Leeward Islands being completely abandoned and only a day's play being possible against England Lions.
The Guyanese now find themselves in a mire and unable to progress to the semi-final round since they are at the bottom of the points table on 16 points.
Ganga, realising Guyana's plight, said yesterday that his team will be going hard at the Guyanese and will be looking for an outright win. He said his team, currently on 40 points, will not be taking Guyana for granted since they are on home soil.
He made this point against the backdrop of their last game that they drew against the Jamaicans in Jamaica. Ganga noted that receiving full points from this match would improve their position among the top four teams, which would give them home advantage in the knockout round.
The top teams at the moment are Jamaica, Combined Campuses and Colleges (CCC), England Lions and T&T. However, the Lions are only taking part in the league phase of the competition before returning to Britain on Monday. This means the top four Caribbean teams will progress to the semi-finals, and Jamaica will be looking to cement their place in this group.
Ganga pointed out that another way they can move from their current position is if his side's batting fires on all cylinders since that department has been cause for some concern throughout the tournament.
The former West Indies opening batsman indicated that he has seen improvement and he hopes this continues for the next four days.
Meanwhile Guyana's captain Assad Fudadin has reiterated that his side's batting continues to be the major letdown. In Guyana's last match against the CCC they were set 200 for victory and were bowled out for 191 after being on 151-5.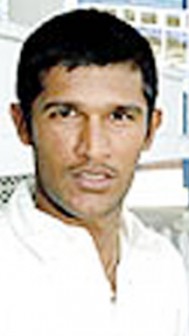 "Our batting continues to let us down and I think it is more mental than anything else. We have been batting well but getting out without getting the big scores and if you look at this team I think we all have so much talent but the mental approach to our batting continues to be a problem.
"All of the games we lost we were in positions to win… we have been competitive but the batsmen, our batsmen have not shown enough application. It's disappointing to see us getting out the same way throughout the tournament," Fudadin commented.
His bowlers on the other hand have been lauded for their efforts throughout the tournament.
Meanwhile, the selectors have remained with the same squad from the sixth round.
Guyana squad reads: Assad Fudadin (captain), Richard Ramdeen, Rajendra Chandrika, Leon Johnson, Narsingh Deonarine, Vishaul Singh, Steven Jacobs, Zaheer Mohamed, Derwin Christian, Veerasammy Permaul, Brandon Bess, Keon Joseph and Rensford Beaton.
Carl Moore (manager) and Mark Harper (coach)
Trinidad & Tobago squad reads: Daren Ganga (captain), Atiba Alert, Nicholas Alexis, Yannic Cariah, Rayad Emrit, Shannon Gabriel, Sherwin Ganga, Imran Khan, Amit Jaggernauth, Tishan Maraj, Jason Mohammed, Denesh Ramdin and Lendl Simmons.
Umpires: Clyde Duncan, Clancy Mack
Match Referee: Colin Stuart
Reserve Umpire: Colin Alfred
Around the Web