Chasing 261 for victory, India fumbled and faltered but half-centuries from Sachin Tendulkar (53), Gautam Gambhir (50) and Yuvraj Singh (57 not out) eventually helped them to overwhelm the target with 14 balls to spare and set up a mouthwatering semi-final with Pakistan.
However, when India lost the wickets of Tendulkar, Virat Kohli and Gambhir, it seemed as if India's chances of stopping the Australian juggernaut was all but over.
Tendulkar seemed cruising to his 100th international century but the otherwise erratic Shaun Tait managed to induce an edge that sailed into Haddin's gloves and a deathly silence descended at the 48,000 seater stadium.
Gambhir had just reached his 24th fifty when he ran himself out after an almighty mix-up with Yuvraj, having survived two such comical communication breakdowns immediately before the dismissal.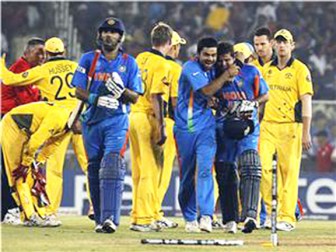 Yuvraj, however, kept his cool and batted till end and saw India through by smashing the winning boundary.
While Yuvraj celebrated by holding aloft his arms, looking up at the sky and swinging his bat like a fencing champion, Ponting's men were left to digest their earliest World Cup defeat since 1992.
It will be the first time in almost two decades they will not feature in the final of the showpiece event.
"The pressure was something else. Playing Australia was a high pressure game. Beating Australia, the three-times world champions was something special," man-of-the-match Yuvraj said during the presentation ceremony.
Australia captain Ricky Ponting said his team were simply "not good enough".
"Probably with 15 overs to go it was a touch and go sort of game but Yuvraj and (Suresh) Raina played too well," said Ponting. "It's disappointing to bow out, we are a better team than we have played."
Opting to bat first, Australia rode Ponting's 30th ODI century to post 260-6 which seemed a strong total at the Sardar Patel Stadium's low, spinning track.
Ponting (104) won a good toss and thought 250 would be a good total.
Batting first, he and Brad Haddin (53) then ensured the total exceeded his expectations despite India using seven bowlers against them, including Tendulkar who last rolled his bowling arm back in 2009 against the same opponents.
Opener Shane Watson (25) fell after a sluggish start but the Haddin-Ponting partnership yielded 70 brisk runs to steady the boat.
Yuvraj was lurking around and underlined his worth as a part-time bowler by dismissing Haddin and Michael Clarke.
Mike Hussey's stay was cut short by Zaheer but his brother David (38 not out) played a cameo in Ponting's company to keep the scoreboard ticking.
But it was not enough to keep them alive in the competition.
"We probably didn't bowl as well as we needed to tonight. We needed to take a few more wickets in the middle of the innings," said Ponting. "It was important that we kept attacking at that stage. We played a reasonable game but we weren't good enough."
Scoreboard
Australia innings
S. Watson b Ashwin                                          25
B. Haddin c Raina b Yuvraj Singh               53
R. Ponting c Zaheer Khan b Ashwin          104
M. Clarke c Zaheer Khan b Yuvraj Singh     8
M. Hussey b Zaheer Khan                                  3
C. White c & b Zaheer Khan                            12
D. Hussey not out                                              38
M. Johnson not out                                              6
Extras: (lb-2 w-9)                                              11
Total: (for six wickets, 50 overs)                260
Did not bat: B. Lee, J. Krejza, S. Tait
Fall of wickets: 1-40 2-110 3-140 4-150 5-190 6-245
Bowling: Ashwin 10-0-52-2 (1w), Zaheer Khan 10-0-53-2, Harbhajan Singh 10-0-50-0 (4w), Patel 7-0-44-0, Yuvraj Singh 10-0-44-2, Tendulkar 2-0-9-0, Kohli 1-0-6-0

India innings
V. Sehwag c Hussey b Watson                     15
S. Tendulkar c Haddin b Tait                      53
G. Gambhir run out                                       50
V. Kohli c Clarke b D. Hussey                     24
Yuvraj Singh not out                                    57
M.S. Dhoni c Clarke b Lee                              7
S. Raina not out                                              34
Extras: (lb 3 w 16 nb 2)                               21
Total: (for five wickets; 47.4 overs)       261
Did not bat: Ravichandran Ashwin, Harbhajan Singh, Zaheer Khan, Munaf Patel
Fall of wickets: 1-44 2-94 3-143 4-168 5-187
Bowling: Lee 8.4-1-45-1 (3w), Tait 7-0-52-1 (2nb, 6w), Johnson 8-0-41-0 (2w), Watson 7-0-37-1 (1w), Krejza 9-0-45-0, Clarke 3-0-19-0, Hussey 5-0-19-1
Result: India won by five wickets
Australia won the toss and decided to bat first
Around the Web