The Guyana Telephone and Telegraph (GT&T) 10/10 Softball Cricket Competition continued into its fifth week last weekend at various venues around Guyana with teams booking their places in the super 16 stage, which was pushed back to April 2 owing to the weather.
According to a press release, major upsets were handed out as last year's finalist, Crabwood Creek Unstoppables of the Upper/Central Corentyne Zone were defeated by the up and coming Ankerville Young Challengers. In Berbice New Amsterdam/Canje Zone last year's semi-finalist Memorex XI exited the tournament losing by a heavy margin of seven wickets to Celerity Times.
Bush Lot Challengers came through to defeat the highly favoured D'Edward Sports Club for a super 16 spot. In the Upper East Coast zone Mahaica Raiders prevailed against Cane Grove SC to take their place in the super sixteen stage.
Meanwhile in the North Essequibo Zone Affiance Storm dethroned Cotton Field Wild Oats as zone representatives in the super 16 in a rematch. The Cotton Field team had won the first encounter by dubious means, the release said.
However, while the young and talented Street Fighters showed great potential through the semi-final round of the West Coast Zone, last year's super 16 representative Wolf Warriors stopped the Street Fighters in their tracks.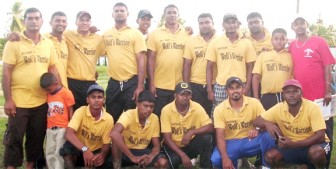 Last year's super 16 team Coomacka Mines from Linden made it through to this year's super 16, but school team Tello Warriors caught the attention of the public as the young Earl Joseph clobbered 66 off 23 deliveries in a losing effort in the semi-final stage.
Meanwhile on the female side in the Lower East Coast Zone Mike's Well Women and the 4R Lioness have made it into the super 16 based on the number of teams that entered in that zone.
And on the East Bank Victorious Warriors are the female zone winners as they marched through Bounty Hunters and the Santa Mission Eagles.
All Star Conquerors and MTWTFSS will represent Linden in the super 16 on the female side of things. With the tournament entering its sixth week before the super 16 round, the competition is set to heat up as the finals for the Georgetown, East Coast and East Bank will take place at Everest Cricket Ground this weekend. The GT&T team will also be present to give the public a glimpse of the items that can be won in various novelty events.
Around the Web