The final of the University of Guyana Inter-Faculty Basketball Tournament has always been a high drama event and yesterday's championship game was no different as Social Sciences defeated Natural Sciences 42-41.
The two faculties, sworn rivals on the basketball court, squared off for the finals at the Cliff Anderson Sports Hall and as expected each exerted every bit of energy to get the upper hand until the final seconds.
Social Sciences proved that they meant business and were hunting for a win within the first minute of the game when one of their lead scorers, John Fraser registered his faculty's first points with a shot from beyond the arc.
On defence Social Sciences were equally aggressive and held their opponents scoreless for the first five minutes of the game.
Natural Sciences eventually got on the board, but the majority of their lineup dwarfed in size and ability in the paint and as a result they were outhustled and outrebounded in the post. Social Sciences went into the halftime break four points ahead (20-16) and came out firing as they did in the first half to accumulate a quick 8-0 run.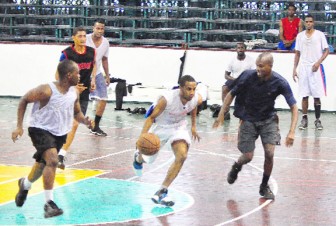 After going on a brief run of their own, Natural Sciences thwarted multiple opportunities to advance with the score 29-24.
The ejection of one of Natural Sciences' key players, Semyon Fung, for the use of profanity towards one of the referees, did not aid their plight. However, Natural Sciences managed to keep close within the last two minutes and eventually tied the game on 39 with 30 seconds remaining on the clock.
Led by team captain Hugh Arthur, who constantly attacked the basket, Natural Sciences were on the verge of a last-minute comeback win, but the stronger Social Sciences team and some heroics by its centre Kiev Chesney secured the win.
With just under 30 seconds remaining on the clock, Chesney put his team a basket in front with a silky spin move around two Natural Sciences defenders in the paint.
A free throw from Social Sciences' Damian Denny put the game further out of reach for Natural Sciences who only managed an inside bucket before the clock expired. Contributions on the score sheet came from most of the Social Sciences squad with Fraser and Yannick December leading the way with nine points each, while Chesney added seven.
Meanwhile on the other end of the court, Arthur piloted the Natural Sciences offence with 20 points and centre Leron Jackman pitched in with nine points.
Around the Web