The Gittens Promotions and Next Level Domino Club seventh One-Day Countrywide Domino Tournament will commence today from 1pm at the National Gymnasium.
The tournament has been receiving favourable sponsorship and on Thursday Guyana's top beverage companies Banks DIH and Ansa McAl contributed towards the staging of the event.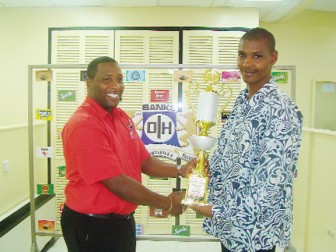 Head of Gittens Promotions, Lyall Gittens, on Thursday received the first and second prizes respectively from Banks DIH through their R1 Vodka brand, and from Ansa McAl through their Stag Lager Beer brand.
Gittens received the first place cheque for $300,000 and the championship trophy from Banks DIH's  Outdoor Events Manager Mortimer Stewart.
Earlier in the day he had received the second place cheque of $200,000 and  a trophy from Ansa McAl's Marketing Manager John Maikoo.
Banks DIH's Public Relations Officer Troy Peters stated that the company was pleased to be associated with the tournament which they are sponsoring through the R1 Vodka which has become one of the leading vodkas.
He added that the company was always willing to support any event promoted by Gittens Promotions and Next Level Domino Club.
The tournament is also being supported by the TNT Domino Club and Grace Kennedy's Bill Express who sponsored the third prize of $100,000 and a trophy and fourth prize of $50,000 and a trophy, respectively.
Other incentives will include gifts for the top 25 teams while the Most Valuable Player (MVP) of the tournament will receive a hamper, compliments of Nigel's Supermarket.
The tournament continues tomorrow at the same venue.
Some 40 teams from Georgetown have already registered for the tournament while teams from Linden, Bartica, Berbice and Parika have also signalled their interest in participating.
Gittens told Stabroek Sport that free accommodation will be provided for the out of town teams while Guinness Bar of Durban Street, will provide complimentary breakfast for the out of town teams tomorrow morning.
Around the Web