-Guyana beaten outright in three days by Trinidad
Trinidad and Tobago cricket team yesterday completed an outright win against Guyana on the third day of their WICB Regional Four-Day match at the Guyana National Stadium, Providence.
Guyana was bowled out for 216 in their first innings missing the follow on target of 284 by 68 runs after the Twin Island Republic had declared their first innings score on a  massive 434-5.
Forced to bat a second time, the host side was dismissed in the final two sessions of the day for 173 handing Trinidad an innings and 45 runs victory.
Trinidad now moves into second position on the points table with 52 points, behind Combined Campuses & Colleges who also won in three days against Barbados and moved to the top with  57 points.
Guyana are last in the points standing with a measly 16 points.
Trinidad's leg spinners Yannick Carriah and Imran Khan destroyed the Guyanese batting in their second innings by claiming 5 – 46 and 4 – 45 respectively while Amit Jaggernauth claimed the other wicket.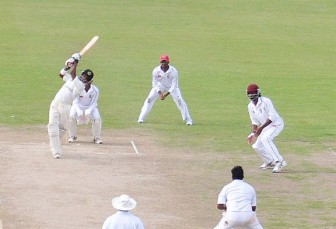 In Guyana's second innings  Rajendra Chandrika and Leon Johnson batted well at the top of the order with Johnson topscoring with 48 while
Chandrika fell to Khan for 24. Test discared Narsingh Deonarine, on whom much depended,  came in at number three but became Khan's second victim after scoring just 10.
Johnson and skipper Assad Fudadin added 25 runs for the third wicket before Jaggernauth claimed the prized wicket of Johnson. The left-hander batted stubbornly before he fell two runs short of his half century.
A partnership of 41 between Fudadin and Vishaul Singh kept the opposition at bay but Carriah forced Fudadin to edge a delivery into the hands of wicketkeeper Dinesh Ramdin on 30 at 138 – 4.
Five runs later Singh was trapped lbw to Carriah for 18, a wicket that heralded the customary collapse of the lower order. The last bit of resistance was expected to come from Steven Jacobs and Derwin Christian but they both fell cheaply to Khan and Cariah, respectively.
Versammy Permaul played all around a delivery from Cariah and was stumped while  Amir Khan scooped an easy catch to Imran Khan at mid-on.
Brandon Bess  had a go at the Trinidad bowling and reached  18 before he became Khan's final wicket.
Earlier, Guyana resumed their first innings with their  overnight score of 90 – 5 with Chandrika and Christian at the middle unbeaten on 77 and 16 respectively. Christian carried on to make 51 before he was dismissed by Khan while Chandrika fell 10 runs short of a first class ton.
The final three Guyanese wickets fell for just 27 runs which stopped them well short of the follow on just under 30 minutes to the lunch interval.
Scoreboard
TRINIDAD & TOBAGO 1st Innings 434 for five declared
GUYANA 1st Innings
(overnight 137 for five)
R. Chandrika c Khan b Gabriel                    90
L. Johnson lbw b Jaggernauth                    25
N. Deonarine lbw b Khan                                5
*A. Fudadin b Jaggernauth                          6
V. Singh lbw b Khan                                        4
S. Jacobs c and b Jaggernauth                    0
+D. Christian c Cariah b Khan                   51
V. Permaul not out                                        19
A. Khan c Mohammed b Khan                     5
B. Bess lbw b Jaggernauth                            1
R. Beaton lbw b Jaggernauth                      0
Extras (b3, lb1, nb6)                                    10
TOTAL (all out, 83.2 overs)                   216
Fall of wickets: 1-52, 2-61, 3-82, 4-89, 5-90, 6-186, 7-189, 8-197, 9-216
Bowling: Gabriel 13-1-49-1, Emrit 9-4-10-0, S. Ganga 8-4-10-0, Khan 22-5-66-4, Jaggernauth 21.2-6-41-5, Cariah 9-2-36-0
GUYANA 2nd Innings (following on)

R. Chandrika lbw b Khan                                    24
L. Johnson c Emrit b Jaggernauth                  48
N. Deonarine c Emrit b Khan                            10
*A. Fudadin c wkpr Ramdin b Cariah            30
V. Singh lbw b Cariah                                         18
S. Jacobs c Jaggernauth b Khan                        4
+D. Christian c Mohamed b Cariah                  2
V. Permaul st Ramdin b Cariah                         0
A. Khan c Khan b Cariah                                     6
B. Bess c Emrit b Khan                                       18
R. Beaton not out                                                    0
Extras (b6, lb5, nb2)                                         13
TOTAL (all out, 75.1 overs)                        173
Fall of wickets: 1-50, 2-72, 3-97, 4-138, 5-143, 6-145, 7-145, 8-145, 9-173
Bowling: S. Ganga 3-1-3-0, Emrit 4-0-12-0, Gabriel 5-0-19-0, Khan 19.1-4-45-4, Jaggernauth 24-11-33-1, Cariah 14-1-46-5, Mohammed 6-2-4-0
Result: T&T won by innings and 45 runs
Points: T&T 12, Guyana 0
Man-of-the-Match: L. Simmons
Umpires: C. Duncan, C. Mack
Matchreferee: C. Stuart
Reserve umpire: C. Alfred
Around the Web