Coach Shelly Daly-Ramdyhan has conceded that it was another challenging outing for the young Guyanese tennis players who represented this country at the recent North/Central America and Caribbean Pre-Qualifying World Junior Tennis (WJT) tournament in the Dominican Republic.
Speaking with Stabroek Sport, Ramdyhan said though it was tough, improvements were seen in their performances relative to last year when Guyana was represented at the event for the first time.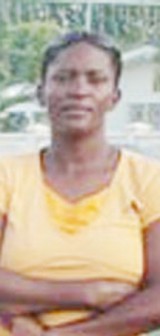 "It was tough, the competition was very hard. The level was a bit higher than what we encountered last year, definitely a bit higher," Ramdyhan told Stabroek Sport.
"But they definitely showed a lot of improvement, especially Daniel (Lopes), and they all showed a lot of potential," she added.
Ramdyhan said that the team's inability to sufficiently prepare for the tournament, due to the inclement weather, also played a part in hampering the players' performances.
The four players who attended the under-14 tournament were Aretta Dey, Nicola Ramdyhan, Daniel Lopes and Judah Stephney. All, except Stephney, had attended the event when it was held last year in Trinidad and Tobago.
The four players also agreed that this year's competition was indeed testing. First timer, Stephney said that the experience was good, but at some stages his excitement and nervousness got the better of him.
"It was ok; it was really good for me. I learnt that I need to work harder because there are a lot of people who are better than me. And I learnt that I really need to work on my forehand," Stephney acknowledged.
"The competition was difficult, especially against Cuba. They played the ball really hard. When we played the US Virgin Islands after I won that first set I got too excited and I lost the second set and from there things went downhill."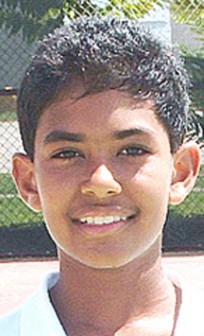 Stephney teamed up with Lopes in the boys' category where the pair lost to Cuba, Aruba and Haiti but won 2 – 1 against the US Virgin Islands.
Lopes and Stephney played in Group B where they were grouped with Cuba and the US Virgin Islands. They finished second in the group and advanced to the playoffs where they again had a tough time against Aruba and Haiti.
For Lopes, who was the most accomplished player of the lot, against US Virgin Islands he won his singles match against Jordan Lawrence to give his team the edge after they won the doubles match 6 – 4, 6 – 1 against the pair  of Julian Di Persio and Luca Del Olmo.
Lopes yesterday told this publication that he attributed his win largely to the fact that he was somewhat au fait with Lawrence's playing style having played his opponent before during an under-13 tournament in Trinidad and Tobago.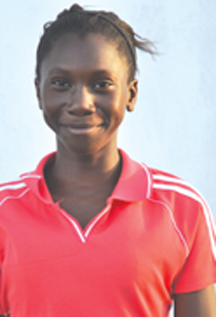 However, opening against Cuba, one of the competition's eventual finalists, Lopes said it was a particularly tough battle.
"The Cubans were really, really good, but I had a better time in my match against US VI because I knew my opponent.
I had played him before in the under-13 tournament in Trinidad in 2009, so that helped me to better understand his game," Lopes said.
Lopes said the lack of practice also put the team at a disadvantage.
He related that being unable to practice much during the week before the competition affected his performance.
On the girls' side, Nicola Ramdyhan and Dey were in Group B along with teams from Guatemala and Aruba. The girls opened against Guatemala, losing all their matches. Against Aruba, Nicola Ramdyhan put up a sturdy fight in her singles match against Natasha Esschendal, losing 6 – 7(5), 5 – 7, in a match that lasted over two and a half hours.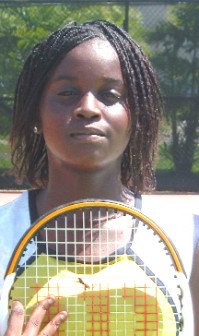 In the playoff the pair first played Panama, and despite not gaining the ultimate win, both Dey and Nicola Ramdyhan put up a strong challenge. Nicola Ramdyhan won her first set against Maria Isabela Peralta, while Dey was defeated by Victoria Sherry 6 – 7 (1) 4 – 6.
The girls ended with a match against the Bahamas, where Dey managed her first win defeating Gabriela Donaldson 6 – 4, 6 – 4 in her singles match.
The team returned from the competition two Sundays ago and the players are said to have resumed practice since Saturday last. Shelly Daly Ramdyhan said that the team was preparing for an upcoming local tournament.
Around the Web