In the wake of the successes of the Berbice Volleyball Association (BVA), which was resuscitated late last year, the Guyana Volleyball Federation (GVF) has revived the Demerara Volleyball Association (DVA) with the hope of making the same progress as the Berbice sub-association.
Speaking to media operatives from his office at Toucan Industries, Water Street, yesterday, President of the GVF, Lennox Shuffler disclosed that the DVA was re-instated under the GVF last Saturday at a special meeting to elect DVA office bearers.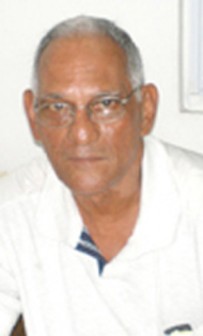 Shuffler noted that the next step for the DVA is to outline a programme of volleyball activities for the year, at the same time ensuring that the programmes do not overlap some of the BVA events in order to ensure maximum participation of volleyball clubs in tournaments.
The next task on the cards for the GVF is the formation of an Essequibo Volleyball Association and the GVF's own event schedule for the year which will incorporate the activities of the sub-associations, since members of the associations are also a part of the GVF. "The Berbice association is already up and running and doing an excellent job under the leadership of Gregory Rambarran… I would like to put it this way, the Guyana Volleyball Federation is like a three cylinder car, where we have one cylinder going quite good. So obviously the next opportunity for development would be to get the other cylinders going, which would be the Demerara Volleyball Association and then the Essequibo association," said Shuffler.
Shuffler also noted that the strength of the federation will depend on the strength of the associations and the main focus at the moment is strengthening of the various sub-associations.
"Now that we have the Demerara association we will be setting up within a week or there about a meeting so that we can chart a course and figure out how we can go forward with a programme for the federation," Shuffler added.
Meanwhile, the members elected to the executive of the DVA are: Dwayne Scott – President, Keithon King – Vice President, Kirk Marlock – Organising Secretary, Cheryl Sam – Recording Secretary, Sven Wills – Treasurer, Adel Chalmers – Assistant Secretary Treasurer, Leon Roberts – Public Relations Officer, and Committee Members, Cleveland Peters and Corwin Richards.
Around the Web