On Tuesday, the seven cricket teams of the Rose Hall Town Youth and Sports Club along with Sterling Products under its Igloo Ice cream brand unveiled two impressive anti-drugs and pro-education billboards in the Rose Hall Town and Port Mourant areas.
The billboards were installed in the compound of the Port Mourant Secondary School and near the entrance to  Rose Hall Town.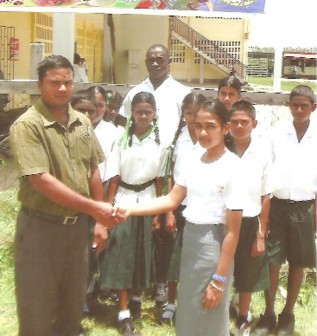 RHT Farfan & Mendes Under-15, Bakewell Under-17, Pepsi Under-19, Gizmos & Gadgets Under-23, Metro Females, Bakewell Second Division and Gizmos & Gadgets First Division approached Ramsay Ali of Sterling Products to support them in the venture and he readily agreed.
Secretary and CEO of the club, Hilbert Foster expressed gratitude to Sterling Products and  Andrew Juman of Andrew's Art for their efforts to make the billboards project a success.
He also praised the dozens of cricketers of the club for the outstanding work they are doing to assist their peers.
The project was organised by the cricket teams under their personal development programme in  which they are mandated to undertake community projects to make a positive difference in the lives of others.
The billboards carry the simple message of 'Saying No To Drugs and Yes To Education' and feature pictorial images of some of the club's rising female and male cricketers, including Shemaine Campbell, Erva Giddings, Jacquelin Singh, Nermala Sewdat, Jameson Anderson, Shawn Pereira, Loyydel Lewis, Dominic Rikhi and Arif Chan.
Assistant Secretary of the RHTYSC, Nermala Sewdat, during the handing over of the billboard to Senior Master of the Port Mourant Secondary School Rohan Etwaru stated that the club was forging ahead with its aim to spread the 'Say No To Drugs' message while at the same time advising youths to stay in school to obtain an education as it is the foundation for a successful future.
Sewdat challenged the administration of the school to take proper care of the billboard as it was very costly to construct. She further disclosed that several more billboards would be installed around the county during the year.
Around the Web