By Treiston Joseph
Funding could be the only problem for the eight-man contingent of six athletes and two officials selected by the Athletics Association of Guyana (AAG) for the prestigious Carifta Games to be hosted by Jamaica from April 23-25.
President of the AAG, Colin Boyce via telephone with Stabroek Sport stated that "we are looking to get enough funding to send the whole team, we have some pledges from various organizations and we have a fundraiser this weekend to help with the funding but we will know something after this weekend if we will be able to fund the whole team," he said.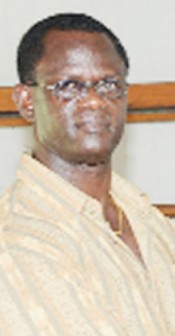 The team was to include the current under-18 champion for the 800 and 1500 metres, Malcolm Walcott, but he will now be replaced by the under-20 champion, Trevon George  for the same events.
This development came about because of the fact that Walcott will turn 17 this year and would have been unable to compete in the under-17 category at Carifta.
According to Coach John Martin of the Enmore Track Club, Walcott holds personal best times of 2:01s and 4:20.1s in the 800 and 1500 metres respectively with both coming last year at international meets. Martin yesterday expressed his disappointment to Stabroek Sport over his athlete's exclusion.
"I know about the age problem but at least they could have sent both him and George for the under-20 category because his personal best times are faster and both came at international meets, the 800 metres in French Guiana for the Inter-Guiana Games and the 1500 metres in Trinidad at the Hampton Games International," he declared.
However, Boyce stated that "because our championships was held in the under-18 format and the Carifta Games will be contested in the under-17 format he would miss out because of the age factor and in comparing his performance to George or Kevin Bailey at the championships he is not running as fast as those guys."
While the games village for the 40th edition of the Carifta Games will open on April 21, no clear departure date for the team to Jamaica has been set as yet, according to Boyce.
Around the Web