The Guyana Defence Force (GDF) rugby team suffered its second consecutive defeat as the second round of the Guyana Rugby Football Union (GRFU) Men's 15's rugby tournament continued yesterday at the National Park playfield.
The GDF defeat came at the hands of the Yamaha Caribs and follows their 0-27 points defeat to Pepsi Hornets last Saturday at the same venue.
The GDF ruggers, comprising mostly a young batch of players, delivered a more substantial fight yesterday, but eventually lost the encounter with the Caribs 12-22.
Caribs also fielded a young team comprising a number of under-19 players but nevertheless their players held their own against the opposition.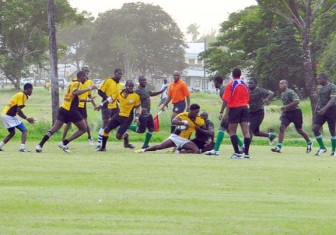 They also benefitted from the experience of senior national players such as Claudius Butts and Walter George.
The Caribs were without the services of national player Theodore Henry, who usually plays a key role in the team, but Butts made up for the team's shortcoming by scoring three tries.
Caribs surged into the lead after being behind early in the game when GDF's Avery Corbin recorded the first try of the match to put his team ahead by five as the try was not converted.
However, though off to a rifling start, GDF failed to breach Caribs' try-line for the remainder of the first half while the Caribs secured numerous tries to take control of the game.
While GDF remained on five points, the Caribs racked up tries from Kevin Joseph and two from Butts to close out the first half.
Butts' second try was the only one that was converted through Wayne Hudson as the Caribs ended the half 17-5 ahead.
Both teams were scoreless for the majority of the second half until Butts struck again late in the game for his third and final try, which was not converted.
Butts was the go-to guy for his team when Caribs advanced their line of scrimmage into a threatening position a few metres out from GDF's try-line. Butts' teammates dished out the ball to him and using his speed he quickly got past the GDF's defenders.
GDF's Reon Walk took the team to a more respectable total when he scored the game's final try in the dying minutes of the encounter.
Walk's try was converted by his teammate, Pernell Carrington.
Around the Web