MUMBAI (Reuters) – Muttiah Muralitharan raised his left arm, acknowledged the applause and vanished behind the dressing room door at Wankhede Stadium, quietly ending a fascinating international career yesterday.
The wily Sri Lankan off-spinner defied a hamstring injury and a knee problem to walk out for the World Cup final against India, hoping to be a member of two World Cup winning Sri Lankan squads but that was not to be.
The eight overs he sent down, mixing off-spinners with his unique 'doosras' could not make much of a difference against Mahendra Singh Dhoni's men and he retreated into the background.
His skipper Kumar Sangakkara insisted the decision to play Muralitharan despite his fitness concerns were based on performance and not any romanticism.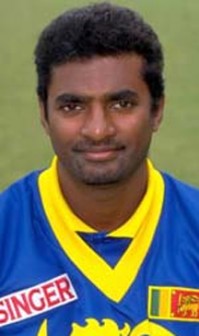 "He is our best bowler, even half-fit. He was fine. He had a few injuries but he was almost fully fit today," Sangakkara told reporters after his team were beaten by six wickets.
"We are going to miss him terribly. Wish we could give him a great send-off."
What Muralitharan got from the fans at Wankhede Stadium was not bad either.
Former India captain Ravi Shastri, hosting the presentation ceremony, asked the fans to give Muralitharan a rousing cheer and the boisterous fans obliged by raising the decibel level.
A wide grin illuminated his face as he went up to collect his runners-up medal but even the smile could barely hide his disappointment.
That same affability masked the guile with which he earned 800 test and 534 one-day scalps. Yesterday he was the only person on the field who already owned a World Cup title as he was a member of the team that triumphed in 1996.
With the medal dangling around his neck, Muralitharan looked around and then waved before leaving for the dressing room.