Ronald Bulkan is the winner of the 2011 Scotia Bank Medal Play golf tournament played Saturday at the Lusignan Golf Club.
Bulkan shot a net 66 from a gross 88 playing off a 22 handicap to come out victorious against a field of 45 golfers and a large support group of Scotia Bank employees.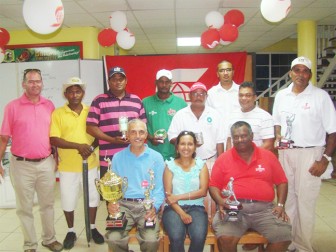 Mike Gayadin (14 handicap) placed second with a net 67 from gross 81 with Fazil Hanif (12 handicap) occupying the third position with net 68 from gross 80.
Chatterpaul Deo with net 71 and Lakeram Ramsundar net 72 placed fourth and fifth respectively.
Nearest to the Pin was David Harry while the Best Gross was Robby Deosaran.
Maurice Solomon was awarded a prize for being the most honest golfer.
Club Secretary William Walker said it was a welcome return to competition and he was he encouraged by the turnout of players.
According to Walker it was a good comeback for Bulkan who has had a lean spell and Gayadin who has returned to competition following a brief illness.
He thanked Scotia Bank for its continued support.
Scotia Bank Marketing Manager Jennifer Cipriani  said the company had lived up to its promise of making the 2011 tournament much bigger and she indicated that next year's tournament will be even bigger. Bulkan was presented with the lien trophy, a replica as well as a golf bag as the winner's prize.
Gifts were also presented to all the players.
Scotia representatives included Abu Zaman (assistant General Manager Retail and Small Business Banking), Bruce Deoraj (senior Manager Business support), Brian Hackett (Parika Branch Manager) and Esau Shamshudin (assistant General Manager Commercial Banking.
Meanwhile, the Annual General Meeting of the LGC will take place next Saturday starting at 17:30 hours.
High on the agenda will be the election of a  new Executive Committee.
Around the Web