Some 79 students were tested last Saturday in the first grading exercise for 2011 by the Japan Karate Association/World Federation at the Cliff Anderson Sports Hall.
According to a press release, grading was done by local chief instructor, Sensei Christopher Chaves (4th Dan) assisted by Sensei Marvin Singh (2nd Dan) and other senior members.
The examiner said he was "pleased" at the "improvements" he had seen at this year's performance when compared to the last grading in November 2010.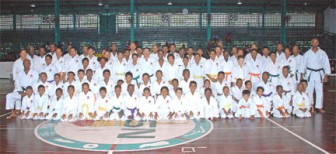 The students tested were from the Japan Karate Association/World Federation (JKA/WF) Guyana headquarters dojo in the National Park, Thomas Lands, Georgetown, as well as from dojos in Canje and Port Mourant, Berbice.
Chaves was authorized on short notice to conduct the grading exercise after the flight of Examiner and Operating Director of JKA/WF America, 6th Dan, Class A Instructor & Judge and Class B Examiner Sensei Yasuaki Nagatomo, from JKA/WF America's HQ in Albuquerque, New Mexico, USA was cancelled.
Chaves, however, noted that Nagatomo had expressed regret at not being able to be here.
After the examamination Chaves urged the students to train hard and he also thanked Singh and the other senior members who assisted with the grading.
Around the Web