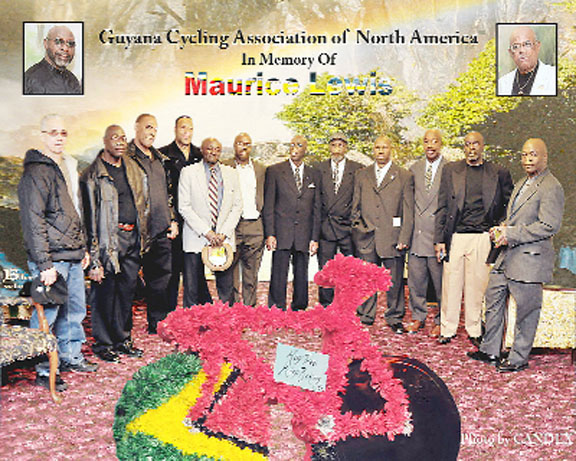 Former Kaieteur Cycle Club cyclist Maurice 'Trini' Lewis was laid to rest in Brooklyn, New York recently.
Several of his former cycling pals from Guyana, who are now based in the United States of America including cycling stars of yesteryear, attended his funeral.
A viewing and service was also held for the 59-year-old cycling stalwart at Legall Funeral Home, Empire Boulevard, Brooklyn.
The popular cyclist and ardent fan, hails from  East Ruimveldt and South Ruimveldt but later settled in Rutland Road, Brooklyn. He leaves to mourn his children, his mother, brothers and sisters and an ex-wife.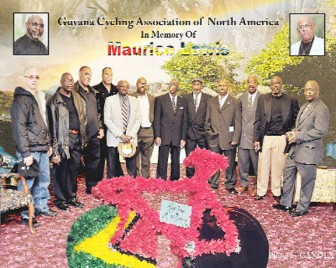 In the forefront of the photo is a wreath  sent by the Guyana Cycling Association  of North America, in the form of a cycle in the Guyana colours, and a card that said: "Hey Trini, Keep Biking".
While Hunte and Rutherford were unable to attend the funeral they managed to assist with the arrangements to pay the final respects to 'Trini'.
From left to right are Terry Chee, Monty Davis, Mike Rogers, Randy Toussaint, Victor Cameron, Gordon Kennedy, Claude Reid, Kenneth Joseph, Alvin"Monty" Davis, Hugh Pickering, Joelyn Joseph, and Mike Simpson.   Inset at top  left is Neville Hunte, chairman of the association,  and top right is Victor Rutherford, coordinator of the association.
Around the Web