Top Class proved to be in a class of their own playing unbeaten on the opening night of the Guinness Greatest of the Streets football tournament at the Mackenzie Municipal tarmac in Linden Sunday evening.
Following an impressive ceremony attended by Minister of Culture, Youth and Sport, Dr. Frank Anthony, Regional Chairman of Region 10, Mortimer Mingo and senior officials of Banks DIH Limited, Top Class scored a 5-3 win over Police in their opening encounter then edged out Mini Bus 1-0 before playing to a 1-1 draw with $100 Car.
Ashton Angel of Top Class was just as impressive as his team scoring five goals including a helmet trick against the cops and the lone goal against Mini Bus.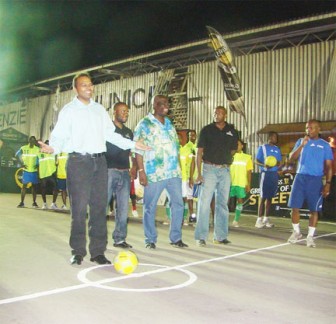 He scored in the sixth, 10th, 11th and 18th minutes of play in the match against Police while Garfield Liverpool netted the other goal for the victors.
R. Trotman, D. Linton and B. Scotland scored a goal each for the lawmen.
Darwin Peters was Top Class's goal scorer in the drawn match against $100 Car while Kevin Dhanraj netted for the taxi drivers.
Mini Bus squeezed past $100 Car 3-2 with Omar Abrams scoring in the ninth minute, Delroy Johnson 13th and Kevin Barker 18th for Mini Bus while Dhanraj and Oslen Adams scored in the fifth and 15th minutes respectively for $100 Car.
Police suffered their second defeat of the night when they went under to $100 Car 2-3 with Dhanraj (sixth), Eze Percival 10th and Deon Grandison 12th being the goal scorers for the winners while Bevon Leitch netted a double for the cops in a losing cause.
Police then edged out Mini Bus 1-0 with Melroy Leitch scoring in the 14th minute.
A Linden All Stars team got the better of Georgetown's Greatest of the Streets champions Broad Street 2-1 in the feature-supporting match.
Dr. Anthony said the tournament was now a national event and he thanked Banks DIH for staging it in the mining community, in his remarks at the opening ceremony.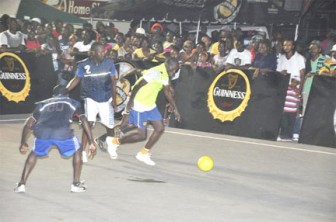 He said because of the success of the tournament in Guyana it was being promoted now in other parts of the Caribbean.
The Sports Minister challenged the organizers and sponsors to push for a Caribbean Greatest of the Streets tournament in Guyana.
Mingo said that the youths of Region Ten would benefit tremendously from the tournament and he lauded Banks DIH for showing faith in the bauxite community.
Banks DIH Sales and Marketing Executive Carlton Joao encouraged the residents of Linden to support the competition.
Thirty two teams are vying for close to $1 million in cash and trophies with the winners taking home $400,000 first prize.
The second round of matches will be played Friday evening at Silver City Hard Court in Wismar.
Around the Web