KARACHI, Pakistan, CMC – Pakistan's talismanic one-day captain Shahid Afridi is now likely to lead his side against West Indies in the Caribbean later this month, after reconsidering his decision to miss the series.
The 31-year-old all-rounder led Pakistan to the semi-finals of the just concluded World Cup where they lost to eventual champions India.
Following the team's exit, Afridi hinted at sitting out the five One-Day Internationals and the single Twenty20 match starting April 21, but has now had a change of heart.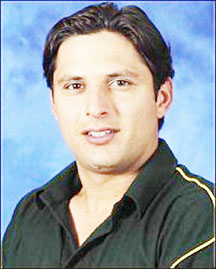 "I had decided to skip the tour because I wanted to take a break from the game, but some former players and my family and friends told me to change my decision at this crucial time for Pakistan cricket," Afridi was quoted as saying yesterday.
"One of the main reasons I wanted to take a break was because I wanted to be with my father who is not keeping well. But my father insisted that I carry on with the Pakistan team."
Pakistan were one of the surprise sides of the World Cup, playing superbly to top Group A which included Sri Lanka and former champions Australia.
The 31-year-old Afridi led from the front, picking up 21 wickets while providing inspirational leadership.
He said the tour against West Indies, ranked eighth in ODIs, would provide the opportunity to blood new players.
"That is why I want to be part of the team on the coming tour and carry on the momentum we got from the World Cup," he stressed.
Pakistan are also expected to play two Tests against the hosts following the ODI series.
Around the Web