The Guyana Olympic Association (GOA) in tandem with the Athletics Association of Guyana (AAG) will stage the annual Olympic Day walk, run and jog exercise on Sunday from the YMCA ground commencing at 06:30hrs.
Olympic Day is celebrated on June 23 but the event can be held any day in the month.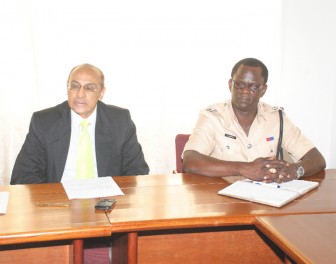 According to President of the GOA, KA Juman Yassin, Sunday was the day they selected.
Yassin speaking at a GOA held press conference yesterday, said a week of sporting activities have been planned which will include sports such as badminton, cycling, and swimming. The walk, run and jog, however, will conclude all of the events on the said date.
While everyone is invited to take part in the event,  the run will see regular track and field campaigners taking to the road representing their respective clubs in six person teams comprising four males and two females, president of the AAG, Colin Boyce explained.
All six members of the team will have to cross the line in order to have a chance of winning the cash prizes up for grabs.
The winning team will receive $60,000, while the second and third placed teams will receive $40,000 and $30,000 respectively.
The teams spending the least amount of time on the course after a tabulation of the respective team member's times will be deemed the winners.
The first 500 persons to sign up for the walk run and jog event will receive jerseys, courtesy of the British High Commission as a part of the countdown to the 2012 London Olympics. Persons that register will also receive a certificate of participation from the GOA.
Meanwhile, Yassin said all the presidential candidates of the upcoming 2011 general elections have been invited to participate in the event with PPP/C's  Donald Ramotar already confirming his participation at the event.
Around the Web