Defending champion Carol Humphrey was beaten in a quarter final match of the Guyana Bank for Trade and Industry (GBTI) Open lawn tennis tournament by Aruna Ramrattan on Saturday.
In what turned out to be an epic battle that lasted approximately four hours at the GBTI Recreational Facility Courts, Bel Air Park, the 16-year-old Ramrattan outclassed the veteran champion 6-4 2-6 6-4.
Ramrattan says that she fought for her success and is satisfied with her win.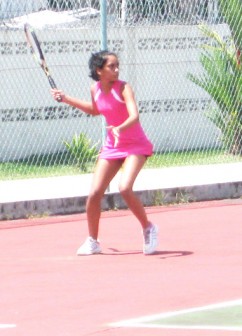 "It was a challenge I fought for it, she made me fight, but it was somewhat easy. In the second set she started to play better but it wasn't the first time I played her so I knew what to do, I played her shots and did what I had to do to win," Ramrattan said.
It was Ramrattan's second match of the day after having earlier defeated Nicola Ramdyhan 6 – 3, 6 – 3.
In another case of youth triumphing over experience, junior player, Gavin Lewis, defeated
Over 35 men's singles champion Andre Lopes in a men's singles match lasting approximately three hours.
Lewis won 4-6 7-5 6-3.
Ezra Sue-Ho and Daniel Lopes, however, ensured that they are still in the running for the men's singles title after registering victories in their matches.
Sue-Ho defeated Owen Lewis 6-1 6-3, while Lopes had an easy time conquering Osata Dos Santos 6-0 6-3.
Results:
Ladies' Singles – Aruna Ramrattan defeated Nicola Ramdyhan 6-3 6-3; Aruna Ramrattan defeated Carol Humphrey (1) 6-4 2-6 6-4.
Men's Over 35 Singles – Harry Panday defeated Don Singh 6-0 6-3.
Men's Singles – Daniel Lopes defeated Osata Dos Santos 6-0 6-3.
Men's Doubles – Godfrey Lowden/Phillip Squires defeated  Nicholas Fenty/Peabo Lewis 6-0 6-3.
Men's Singles- Gavin Lewis vs. Andre Lopes 4-6 7-5 6-3; Ezra Sue-Ho defeated Owen Lewis 6-1 6-3
Juniors
Boys 18 Singles – Khalif Gobin defeated Benedict Sukra 6-2 5-7 10-6; Seanden David Longe defeated Khalid Gobin 6-1 6-1; Daniel Lopes (2) defeated Craig Campbell 6-2 6-0.
Novices (Adults) Tie-Break sets
Vini Aaron def Nigel Glasgow 7-1 7-3
Andrew Sawh defeated Paul D'Andrade 10-8 4-7 7-5; Lambert Robertson defeated Travis Austin 7-4 7-3; Gavin Ramsoondar defeated David Dewar 2-7 7-4 8-6.
Around the Web