A six member Guyanese Karate contingent surprised a host of their Trinidadian counterparts when they captured twelve trophies and three medals at the Tiger Claw International Sport two day Championships held at the Central Regional Indoor Sport Arena in Trinidadearlier this month. Ganesh Babulall, Instructor of the Guyana Amateur Karate Association (GAKA) led from the front by topping his counterparts when he won the Grand Champion first prize.
The Grand Champion is a category contested after the entire two day tournament amongst the highest ranking Dan's first place finishers.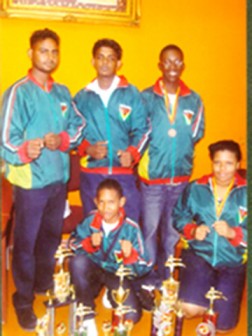 "We have been training for 3 months for the competition and it was good to win out there especially since my group was performing for the first time in any tournament," Babulall stated.
Babulall's students also performed well at the tournament with Marvis Lowden who was sponsored by Natasha Welch and Jim Lowden competing in the 14-15 category to win a second and third place trophy while receiving a fourth place medal. Shannon Benjamin also did well in the 14-15 category when she battled her way to two first place finishes in the Block Breaking and Kumite Sparring while placing third in Self Defence. Sheldon Aaron Jr. was sponsored by Sheldon Aaron Sr. and competed in the 16-17 category and claimed first, second, third and fourth in Traditional Kata, Block breaking, Kumite Sparring and Creative Kata respectively.
"The performance was good because this was the first time they competed in any tournament, so I was surprised, it was a high level tournament and they performed well and I was real proud of them and would like to congratulate them on their work," Babulall told Stabroek Sport.
However, Babulall who was sponsored by Builders Lumber Yard, Singh's Confectionary and Vidya and Rohan Babulall also attained other honors on his way to picking up the grand champion's trophy. He participated in the 18-39 masters event and captured first position in the Traditional Kata and Block Breaking while picking up second in Creative Kata and Self Defence
Meanwhile the competition according to Babulall was a qualifier for the United States (US) Karate Open in July and November and he is appealing to the public and cooperate organizations for sponsorship to attend the games in either month.
He can be contacted on 639, 4041 or contact can be made with the Secretary of the GAKA, Avril Singh on 654-7478 for Babulall's sponsorship to attend the prestigious event.
Around the Web