4R Lioness pulled off an upset victory over Shemaine Campbell's Rose Hall Females to become the Stag Beer & El Dorado Rum softball champions last Sunday at the GCC Ground, Bourda. The event was organized by the Guyana Softball League (GSL).
With both teams having contrasting semifinal victories to make it to the final as 4R Lioness squeaked by Lusignan Street Warriors by 2 runs and Rose Hall Females walking by Wellwoman by 9 wickets, Rose Hall seemed to be clearly the more talented of the two teams.
However, good fortune was on the side of 4R Lioness as they made a mediocre score of 75 for 5 in their 10 allotted overs with Campbell keeping a tight leash on their batting with figures of 2 for 28.
In reply, Rose Hall Females were unable to get any type of partnerships going as wickets fell at crucial intervals which allowed 4R Lioness to comfortably win the championship by 6 wickets as they held Rose Hall Females to 69 for 8 off their 10 overs.
Shyan Goodluck took 1 for 8 in the bowling department and received the Player-of-the-Match award for her bowling figures and her batting score of 28. Tracey Glasgow took 2 for 15 in support of Goodluck's all-round play.
Meanwhile in the male open finals Memorex of Berbice defeated Cotton Field of Essequibo by 7 wickets to claim the male version of the title as Cotton Field got the proceedings underway by scoring 75 all out.
Vishal Phillips ripped through the heart of Cotton Field's lineup as he ended with bowling figures of 4 for 14.
Shawn Khan and Vidian DaSilva supported well by ending with figures of 3-14 and 3-16 respectively.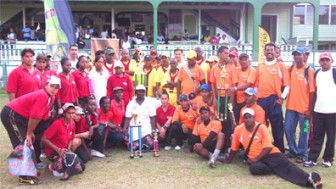 Memorex in reply made light work of the chase as they reached the target within the 9th over with a score of 76 for 3. Andy Bharapram played a delightful knock of 33 and received the Man-of-the-Match award for his efforts.
Regal then dethroned Floodlights by 85 runs to take the males over-40 title of the tournament.
Regal batted first scoring 241 for 5 off their 25 overs as Linden Light top scored with a masterful 87 while Thakoordial Rampersaud and Rudy Rodrigues reached half centuries of 60 and 54 not out respectively. Bowling for Floodlights featured Imtiaz Mohammed who took 3 for 47.
In reply, Floodlights could only manage  156 for 7 off their 25 overs as Lalta Gainda top scored with 66 and Richard Persaud 40. Bowling for Regal saw Amarnauth Boodhoo taking 3 for 38.
Danny Mohanram received the Player-of-the-Tournament award for the males over-40 category while Patrick Khan and Shaneeza Williams received the equivalent in the male and female categories respectively.
Meanwhile the season will resume in August with the Mike's Pharmacy Inter-County Softball Male and Female Tournament that will be organized by the GSL.
Around the Web