WELLINGTON, (Reuters) – New Zealand allrounder Scott  Styris has retired from international cricket, lowering the  curtain on a 12-year career with the Blackcaps.
The 35-year-old, who made his international debut 1999 on  tour to India, said the time was right for him to step aside as  the team rebuilds under new captain Ross Taylor. "I have thoroughly enjoyed representing my country in the  international cricketing environment," said Styris.
"It has been an honour and a pleasure to play for the  Blackcaps alongside so many quality players over the years and  to have been a part of many key moments during that time."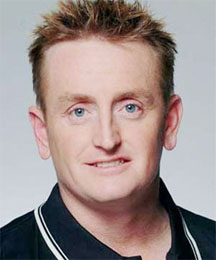 His last match appearance came in the semi-final of the ICC  Cricket World Cup 2011 against Sri Lanka.
Styris pointed to New Zealand's Champions Trophy victory in  Kenya in 2000 and a stunning Test debut in the West Indies two  years later as the highlights of his lengthy career.
"Winning in Kenya was awesome given it was also the first  time the Blackcaps won an ICC event," he said.
Coming to the crease at the number eight batsman and  smacking a century to clinch a draw and ultimately the series  against the West Indies also stuck in Styris's mind.
"It was also memorable to score a hundred and take wickets  on my Test debut, knowing it contributed to an historic series  win," he said.
Styris will continue to play domestic cricket for the  Northern Knights and the Chennai Super Kings, despite bowing out  of the international game.
"I really enjoy the T20 format of the game and see it as a  way to stay involved in cricket for another year or two if I  can," he said.
New Zealand Cricket CEO Justin Vaughan paid tribute to the  long-serving Styris.
"Scott has been a key part of the Blackcaps unit with both  bat and ball since his debut over a decade ago," he said.
"He has been one of our most consistent performers — a real  'go-to' man in big games — and someone who always seemed to  play his best under pressure.
"His competitive attitude and leadership will be missed. I  know what a tough decision this will have been for him as he  took so much pleasure and pride in playing for his country."
Around the Web