DUBAI, (Reuters) – Sri Lankan opening batsman Upul  Tharanga has been suspended for three months after failing a  doping test, the International Cricket Council (ICC) said yesterday.
An ICC statement said the 26-year-old left-hander's urine  sample, taken after this year's World Cup semi-final against New  Zealand in Colombo on March 29, contained prednisone and  prednisolone which are on the World Anti-Doping Agency's banned  list.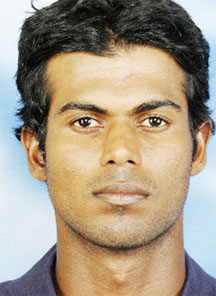 Tharanga pleaded guilty to the offence at an early stage in  the proceedings, it added.
A three-member independent tribunal, chaired by Tim Kerr,  accepted that the opener had ingested the substances when  drinking a herbal remedy for a long-standing shoulder injury.
"It also found that Tharanga had no intention to enhance his  sporting performance or to mask the use of another performance  enhancing substance, but that he had failed to satisfy the high  levels of personal responsibility implicit upon him as an  international cricketer subject to anti-doping rules," the  statement said.
The tribunal used its discretion to back-date Tharanga's  suspension, which started on May 9 and expires on Aug. 8, from  all cricket-related activities.
"I apologise to the fans and followers of Sri Lanka cricket  for inadvertently committing an offence," Tharanga was quoted as  saying in the statement.
"I hope my fellow sportsmen will learn from my experience  and be more vigilant when taking medical treatment, so that  their careers do not suffer in the way that mine has."
Tharanga has 21 days to appeal against the decision.
"We recognise that Upul has not been found guilty of  deliberately cheating, but the ICC maintains its zero-tolerance  approach towards doping for the benefit of all its  stakeholders," ICC chief executive Haroon Lorgat said.
"Cases like this serve as a reminder to all players that  they must take great care and personal responsibility at all  times for the substances that they consume.
"I am satisfied with the tribunal's decision and pleased at  the way the ICC has handled this case with both sensitivity and  efficiency."
Around the Web