Kingston, Jamaica – Strong winds propelled Yohan Blake, Michael Frater, Lerone Clarke and Asafa Powell to sub-10 performances in the opening round of the 100m on Thursday's opening day of the Jamaican Championships at National Stadium.
Blake clocked 9.83 to beat Frater (9.86) and Clarke (9.99) in quarter-final four, but they were all supported by a strong tailwind of 3.6 metres per second.
Frater said he is feeling good going into the semi-finals. "Yohan won, it's just the heats and races are not won in the heats. This is just the heats so tomorrow we will see the finals."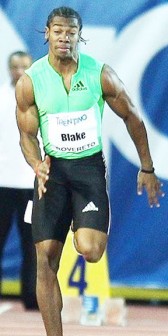 As for Clarke, he too felt good. "I ran just to qualify, but it would have been great if the wind was legal."
Earlier, Powell, supported by a 2.7m/s wind, ran 9.99. Powell was able to ease down after 80 metres and still finished ahead of Dexter Lee who clocked 10.09.
In the first quarter-final one, Steve Mullings, running into a negative 1.3m/s wind, clocked 10.13. He too was very easy in taking it ahead of Mario Forsythe 10.29. Mullings said his first goal was accomplished.
"Just glad I qualified then look forward to Friday," Mullings said. "Everybody is going be ready, so I am looking forward to it."
Nesta Carter ran 10.05 to win the second quarter-final. Jacques Harvey was second in 10.12. The wind here was +0.7m/s.
This set up for a sizzling 100m semi-final round yesterday with the final later last night. The women's 100m, also yesterday, was scheduled to start at the semi-final stage.
Meanwhile, in the women's 400m first round, Kaliese Spencer ran a season's best 50.86 seconds to win the third heat. Davita Prendergast was second to Spencer in 51.47.
Rosemarie Whyte with 51.98 won heat two ahead of Natoya Goule (52.23) and Patricia Hall (52.48) while Novlene Williams-Mills took heat one in 52.07 ahead of Shericka Williams (52.48).
On the men's side, Jermaine Gonzales with 45.61 ran very well to take heat one ahead of Lanceford Spencer (45.82) and Peter Matthews (46.00).
Allodin Fothergill won heat two in 45.98, ahead of Leford Green (46.04) while Oral Thompson, the defending champion, took heat three in (45.69) ahead of Riker Hylton (46.24). Edino Steele was heat three winner in 46.05.
Earlier, in the morning session, 2004 Olympic silver medallist Danny McFarlane led the qualifiers going into yesterday's final of the men's 400m hurdles. McFarlane led from start to finish to take semi-final one in 49.59, beating Isa Phillips (49.70) and Roxroy Cato (49.99).
Around the Web