DUBAI, United Arab Emirates, CMC – Exciting West Indies opener Adrian Barath and rookie leg-spinner Devendra Bishoo have made significant jumps in the latest ICC Test Player rankings released yesterday.
The 20-year-old Barath has risen 29 spots to 62 in the batting rankings while Bishoo has leapt 12 spots to 49th in the bowlers rankings.
Both players made substantial contributions during the first Test against India in Jamaica which West Indies lost by 63 runs inside four days on Thursday.
Barath stroked a top score of 64 in the first innings and returned to hit an attacking 38 in the second innings.
Bishoo, meanwhile, finished with match figures of seven for 140 after bowling impressively in both innings.
Meanwhile, stylish stroke-maker Darren Bravo moved up three places to 58th following scores of 18 and 41 but veteran left-hander Shiv Chanderpaul slipped one place to eighth.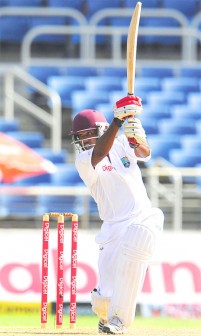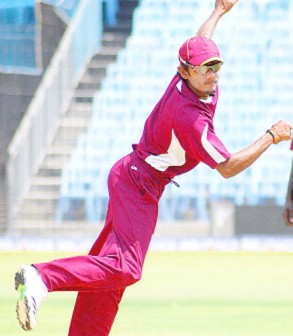 Seasoned right-hander Ramnaresh Sarwan has also lost ground, dropping two spots to 39th while vice-captain Brendan Nash has slipped five places to 52nd.
Captain and medium pacer Darren Sammy, who claimed four for 52 in India's second innings, moved up three spots to 29th in the bowlers rankings while pacer Ravi Rampaul jumped four places to 54th.
South African Jacques Kallis has remained top of the batting rankings while his countryman Dale Steyn is unmoved at the summit of the bowlers rankings.
Selected positions from the latest International Cricket Council Test player rankings:
BATSMEN
1 Jacques Kallis (SA) 883
2 Sachin Tendulkar (IND) 874
3 Kumar Sangakkara (SL) 838
4 Jonathan Trott (ENG) 833
5 Alastair Cook (ENG) 821
6 Virender Sehwag (IND) 782
7 Thilan Samaraweera (SL) 766
8 Shiv Chanderpaul (WI) 763
9 AB de Villiers (SA) 760
10 Hashim Amla (SA) 744
39 Ramanresh Sarwan (WI) 558
50 Dwayne Bravo (WI) 471
52 Brendan Nash (WI) 454
58 Darren Bravo (WI) 419
62 Adrian Barath (WI) 388
BOWLERS
1 Dale Steyn (SA) 899
2 Graeme Swann (ENG) 797
3 James Anderson (ENG) 781
4 Morne Morkel (SA) 751
5 Zaheer Khan (IND) 741
6 Mitchell Johnson (AUS) 727
7 Harbhajan Singh (IND) 659
8 Shakib Al Hasan (BAN) 648
9 Daniel Vettori (NZ) 623
10 Chris Tremlett (ENG) 611
25 Fidel Edwards (WI) 507
29 Darren Sammy (WI) 485
31 Kemar Roach (WI) 455
49 Devendra Bishoo (WI) 310
54 Ravi Rampaul (WI) 248
Around the Web