KINGSTON, (Reuters) – West Indies pace bowler Ravi  Rampaul has been fined 10 percent of his match fee for dissent  after disputing an umpire's decision in the first test against  India, the International Cricket Council (ICC) said yesterday.
West Indies captain Darren Sammy was also reprimanded for  another code of conduct breach in the Sabina Park test, the ICC  said in a statement.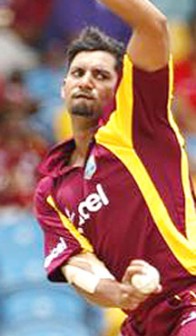 India won the first test, which ended on the fourth day on  Thursday, by 63 runs to take the lead in the three-match series.
"Just like India player Amit Mishra in the first innings,  Ravi stood his ground and gestured to both the umpires on being  given out," ICC match referee Jeff Crowe said.
Sammy was reprimanded  for pointing to his arm to suggest  where the ball had struck him when the Indian fielders appealed  for a catch.
"Darren, who was eventually given not out, immediately  looked to influence the umpire as to where the ball struck him,"  Crowe added.
"It is a pity they didn't take note of Amit's earlier  behaviour because it is clear that their actions were also in  breach of the code."
Around the Web