By Colin Benjamin
Led by sterling all-round performances by skipper Anthony Adams and Ricardo Adams (no relation), Essequibo scored a morale boasting 54-run victory over Demerara in the opening round of the 2011 Guyana and Trinidad Mutual (GTM) Under 19 limited overs tournament at the Providence Stadium, yesterday.
Essequibo skipper Anthony Adams won the toss end kept up the captain's tradition when teams play on the docile Providence wickets of electing to bat first.
But they were soon in early trouble as they lost opener Kevin Boodie caught in the slips off the impressive new-ball bowling of Kevin Ogle for three, to leave Essequibo 14 for 1 in the seventh over.
By the end of the first 10 mandatory power-play overs, Essequibo had progressed to 51 for 2, with the further loss of Devon Singh for eight.
The introduction of star spinner Amir Khan soon pegged Essequibo back, as he got rid of Vijai Surjpaul stumped brilliantly by wicket-keeper Denesh Mangal for 24 and Seon Venture for five, to leave Essequibo precariously placed at 68 for 4 in the 20th over of the innings. At this stage Demerara was on top,  sniffing at the possibility of running through the Essequibo middle/lower-order, similar to what occurred fairly regularly in the just concluded three-day format.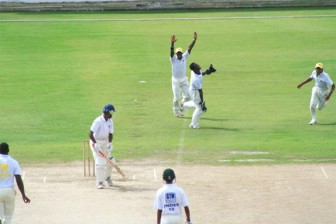 However namesakes Anthony & Ricardo Adams were having none of that as the steadied the Essequibo innings with a controlled 109-run fifth wicket partnership. But even in that partnership Demerara's bowlers never were put to sword, which is highlighted by the fact that only 19 runs were scored during the batting power-play from overs 37 to 41.
Thus by the time both Anthony & Ricardo Adams were dismissed within three balls of each other with the team total on 177 & 178, for individual scores of 66 (from 82 balls with 6 fours and 1 six) and 54 (82 balls 1 four and 2 sixes).
Demerara was able to chip away the remainder of the batting and restrict Essequibo for a modest 200 for 9 of the allotted 50 overs.
The main wicket takers for Demerara were again the tried and tested spin duo of Raj Nannan/Khan who had figures of 10-1-47-3 and 10-0-23-2 while Chanderpaul Hemraj with his part-time left-arm spin claimed 2 for 26 of seven overs.
Demerara never got going even against such a modest target thanks to an inspired opening new-ball spell from national and West Indian Under19 fast bowler Ronsford Beaton who ended with figures of 9-2-33-3 and Kevin Fredericks, as they plunged Demerara for 15 for 3 in the sixth over.
Only skipper Kwame Crosse, who scored 55 from 70 balls with six boundaries and Amir Khan 29 from 21 balls which included three fours and one six in some valiant late order hitting, showed resistance. As the Adams pairing continued their partnership chemistry for the day, this time with ball, as they backed up the efforts of the quick-bowlers to run through the Demerara middle/lower-order with figures of 10-2-22-2 (A. Adams) and 5-0-26-2 (R. Adams) respectively.
Essequibo now will be hoping to build on yesterday's result when they lock horns with defending GTM 50 overs champions Cellink Berbice tomorrow at the National Stadium.
Scoreboard
Essequibo Innings
K Boodie +   ct Surat    b Ogle                3
D Singh      ct Hemraj   b Crosse            8
V Surujpaul  st Mangal   b Khan         24
A Adams *                b Hemraj               66
S Venture            Lbw b Hemraj             5
R Adams      ct Barry jr b Nanan         54
R Beaton     ct Surat    b Nanan              4
R Fredericks ct Khan     b Nanan          6
T Premnauth  ct Khan     b Hemraj      0
H Green      not out                                    4
M Tyrell     not out                                    5
Extras      (w 16, lb 4)                              20
Total       (9 wks, 50 overs)                 200
FOW: 1-14, 2-25, 3-62, 4-68, 5-177, 6-178, 7-190, 8-190, 9-190
Ogle  5-0-13-1, Barry 5-0-9-0, Crosse  6-0-39-1,  Nanan  10-1-47-3, Khan    10-0-23-2, Surat  3-0-19-0,  Hemraj 7-0-26-2,  Habib 4-1-20-0
Demerara Innings
C Surat    ct Boodie   b Beaton                     1
A Ramalho  ct A Adams  b  Beaton           8
C Hemraj   ct Boodie   b Fredericks          3
C Persaud  ct Boodie   b Surujpaul            1
K Crosse *             b Beaton                          55
A Habib    ct Venture  b A Adams              5
D Mangal + ct Boodie   b A Adams           9
A Khan     not out                                          29
R Nanan    ct Beaton   b R Adams             6
K Ogle                 b R Adams                           0
N Barry jr run out                                          3
Extras     (w 16, lb 1)                                   17
Total      (all out, 41 overs)                    146
FOW: 1-12, 2-15, 3-15, 4-59, 5-77, 6-107, 7-107, 8-117, 9-118, 10-146
Beaton 9-2-33-3, Fredericks 5-1-10-1, Tyrell 3-0-10-0,  Venture 3-1-10-0, R. Adams 5-0-26-2, Surujpaul 5-0-13-1, A .Adams 10-2-22-2, Singh, 1-0-5-0, Green 2-0-16-0.
Around the Web