It is not often that a domino player can rap with a playable card in his hand and come back to love another player.
International 6's Edmund Sammy did just that.
Competing in the final of the Jeet Brothers of the USA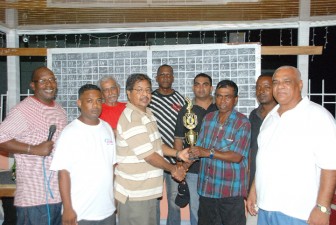 sponsored tournament, Sammy produced a match winning performance.
His 16 games in the final enabled International 6 to score 75 games and run out winners ahead of TNT on 73 games and Wild Bunch in the cellar on 70.
Sammy received an Omega De Ville Hour Vision watch and a NYC cap for his efforts.
The final was played last Monday evening at the Strikers Sports Club.
The Jeet brothers, ardent domino players, migrated some years ago but remain committed to supporting the sport locally.
They sponsor the annual tournament providing trophies, caps, watches and other souvenirs to exceptional players in each team that would participle.
When the final began, Wild Bunch shot out the blocks with 13 games while International 6 and T.N.T followed closely behind deadlocked on 12 games apiece.
Wild Bunch's lead was short lived, however, as Andrew Yhap loved by Leroy Edwards of TNT. They never fully recovered thereafter.
This meant a two-way battle for supremacy between TNT and International 6.
A power sitting from TNT saw them move to 66 games with International 6 on 62 games and Wild Bunch in the cellar on 55.
But in the sixth and final sitting,  the experienced trio of Martin Premaul, Sammy and Intikab Ali dug deep to  snatch the victory Sean Morgan of TNT was loved by  Jermain Jackson of Wild Bunch.
The MVP and recipient of a Rolex Submariner Date Watch and a NYC cap was TNT's Dane Bynoe who chalked up the maximum 18 games while Jackson was adjudged best player for Wild Bunch with 14 games. He received an OMEGA Hour Vision Blue watch and a NYC Cap.
Around the Web