LONDON, (Reuters) – Novak Djokovic and Marcos  Baghdatis had the normally reserved Centre Court crowd rocking  in the aisles yesterday as they produced their second  Wimbledon blockbuster in four years.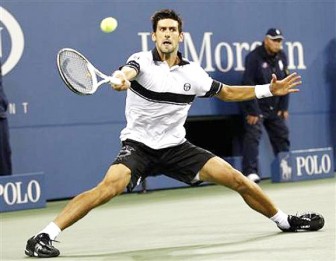 For the record, world number two Djokovic won 6-4 4-6 6-3  6-4 but the scoreline fails to do justice to a match which had  everything from temper tantrums to jaw-dropping rallies.
Serbia's Djokovic demolished his racket frame after one  point that bordered on the preposterous at the end of the second  set but despite feeling heavy-legged he resisted a furious  barrage from the grinning Cypriot showman to reach the last 16.
The 24-year-old won 41 consecutive matches this year,  including the Australian Open, but few of those wins provided  the sheer sporting theatre that captivated 15,000 fans in Centre  Court and millions around the world on television.
"I mean, playing here the last five years, there were not  many moments when I saw practically all the Centre Court stadium  on their feet," Djokovic, who faces French serve and volleyer  Michael Llodra on Monday, told reporters.
"It was incredible really. It was exciting to see the Centre  Court of Wimbledon being so enthusiastic about the match.
"Me as a player, I have to appreciate that and be happy I  was a part of the exciting match.
"I was moving really bad. I didn't feel great on the court.  I think I won because I was hanging in there and fighting."
Djokovic, poised to take over as world number one if Rafa  Nadal fails to retain his title here, was in control of the  first set and pounced at his first opportunity when former  top-tenner Baghdatis served at 4-5.
Something about the Wimbledon air inspires 26-year-old  Baghdatis though and he began striking the ball with real  panache as Djokovic retreated into his shell.
EMOTIONALLY STABLE
A forehand return winner that Djokovic barely even saw  signalled a Baghdatis counter-attack in the third game of the  second set and he secured his first break of the match thanks to  a double-fault from an increasingly agitated opponent.
Gesticulating towards his box and chuntering to himself,  Djokovic finally exploded in the eighth game when he floated a  backhand long after a staggering exchange which had the crowd  rubbing their eyes in disbelief.
Once, twice, three times Djokovic buried his racket frame  into the dust patch behind the baseline until his shiny frame  was in pieces — the warning issued by the umpire almost drowned  out by the din.
"I like to make sure," Djokovic, who beat Baghdatis in a  five-hour epic Wimbledon quarter-final in 2007, joked later.
"Look, I'm not going to change who I am. I can work on some  things, but, you know, my temper is my temper. My character is  my character.
"On the bright side, I hung in there and in the important  moments I stayed emotionally stable, believing that I can win,  and that's what matters the most."
After the free-hitting Baghdatis, who once broke British  hearts by beating Andy Murray on Centre Court, levelled the  match it looked grim for Djokovic.
He was reduced to ball retriever for a while as Baghdatis  pounded the corners, his racket a swishing blade. At one point  Baghdatis ended up on Djokovic's baseline after chasing down a  drop shot, sharing a joke with a lineswoman while he was there.
It was cracking stuff but Djokovic, whose nickname is Joker,  is not the heir to the No.1 throne for nothing and when he  needed to dig deep, he kept digging.
He broke Baghdatis's serve in a mesmerising fourth game of  the third set despite trailing 40-0 and suddenly a match that  appeared to be slipping away was back in his grasp.
He broke again to lead 3-2 in the fourth when Baghdatis  hoicked a forehand into the net but there was a final twist when  Djokovic served for the match and was seized with nerves,  fluffing a forehand into the net.
A fist-pumping Djokovic saved two break points, one with a  Hawkeye challenge, and finally claimed victory when Baghdatis  fired a forehand wide.
The warm embrace at the net between two of the game's  stand-out personalities spoke volumes and Djokovic was clearly  relieved to still be in the hunt for the Wimbledon title.
Around the Web