Pierre Boucher and Anthony Drayton outplayed their opponents to capture the first place trophies in the senior and junior categories of the Trophy Stall one-day Rapid Chess tournament.
The competition was held Sunday at the Kei-Shar's Sports Club.
Boucher dominated the senior category by winning seven out of his eight matches. He was defeated only by  junior player Drayton.
Although he won the junior category, Drayton suffered two losses; one to fellow junior Suhai Feng and the other to Learie Webster.
Senior player, Webster placed second and newcomer Maria Thomas, the lone female, placed third among the seniors.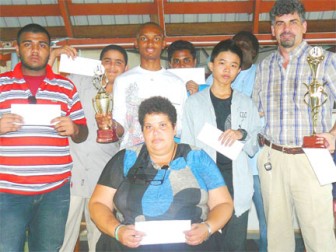 In the junior category, Feng placed  second and reigning National Junior Champion Ron Motilall, third.
Roberto Neto was fourth and Raan Motilall, fifth.
The final points standings at the end of the eight round competition are: Boucher – seven points,  Webster – six points, Thomas and David Khan – five points each, Alexander Duncan and Alex Joseph four points apiece.
Junior players Drayton and Feng six points each, Ron Motilall and Roberto Neto – five points each, Raan Motilall, Ashwant Satamand, Shane Yussuf and Puran Singh – four points apiece.
The competition attracted 21 chess players.
Around the Web