Hollister Edwards out of Trinidad became the overall champion of the Guyana Motor Racing and Sports Club (GMRC&SC) 'Clash of the Supermotos' Drag meeting held at the South Dakota Circuit last Sunday.
Driving his 1964 ALTA Dragster, Hollister treated Guyanese race fans to a couple of firsts as he became the first of two Trinidadians to take part in a Drag meet in Guyana while allowing the motor racing fanatics of Guyana to view for the first time an actual Dragster machine.
The 1964 ALTA Dragster which is easily an eight second car also recorded the two fastest speeds at the meet while according to Hollister after his second race which he recorded 134 mile per hour (mph) he h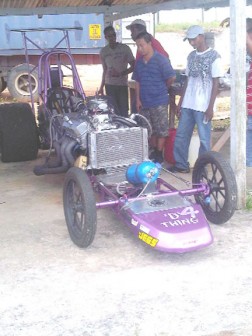 ad to shut down his engine in the middle of his race.
"I had to shut it down in the middle of the race because I'm still learning the track and I don't want to run off the track," the drag master stated in the pit after the race.
Meanwhile, in the Class 'B' category, Oliver Tjiv -Liep-Shie out of Suriname, powered his Honda Civic past all of his opponents to walk away with the top prize at the meet while Rafeek Mohamed of Guyana driving his Toyota- KP61 Starlet out dragged the rest of his opponents to become champion of the `C' Class  category.
Suriname's O. Marvin had no challenge in the Class 'D' Category as he drove his Honda Civic machine to finish ahead of Andrew Edwards of Guyana who had some close battles and finished second in his Mazda RX 7.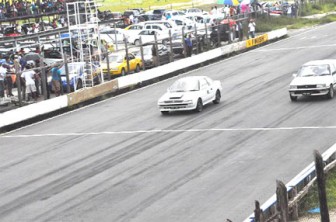 Guyana's Arvind Parag smoked Aaron Dowridge of Trinidad, the second Trinidadian in the meet who drove a Nissan Skyline to take first place in the Class 'E' category in his Subaru Impreza drag machine.
Around the Web